Regular price
$258.00 USD
excluding tax
Regular price
Sale price
$258.00 USD
excluding tax
Unit price
per
Sale
Sold out
Pre-Ordered items ship within 10 days of ordering
The Hantek-6074BE USB oscilloscope is equipped with over 80 types of automotive measurement functions (Ignition Action/The Sensor/Bus Diagnosis/Performer/Startup&Charge). USB 2.0 interface plug and play, with no need for an extra power supply. Supports tablet PC; Support Win10/ Win8/Win7. Free software upgrades, higher cost performance; Support USBXI, easy to operate. 4 channels oscilloscope, 1GSa/s real-time sampling rate, 2mV-10V/DIV high input sensitivity and large input range. 70MHz high bandwidth, small size and easy to carry. Dynamic cursor tracking, waveform record and replay function.
View full details
SKU: Hantek-6074BE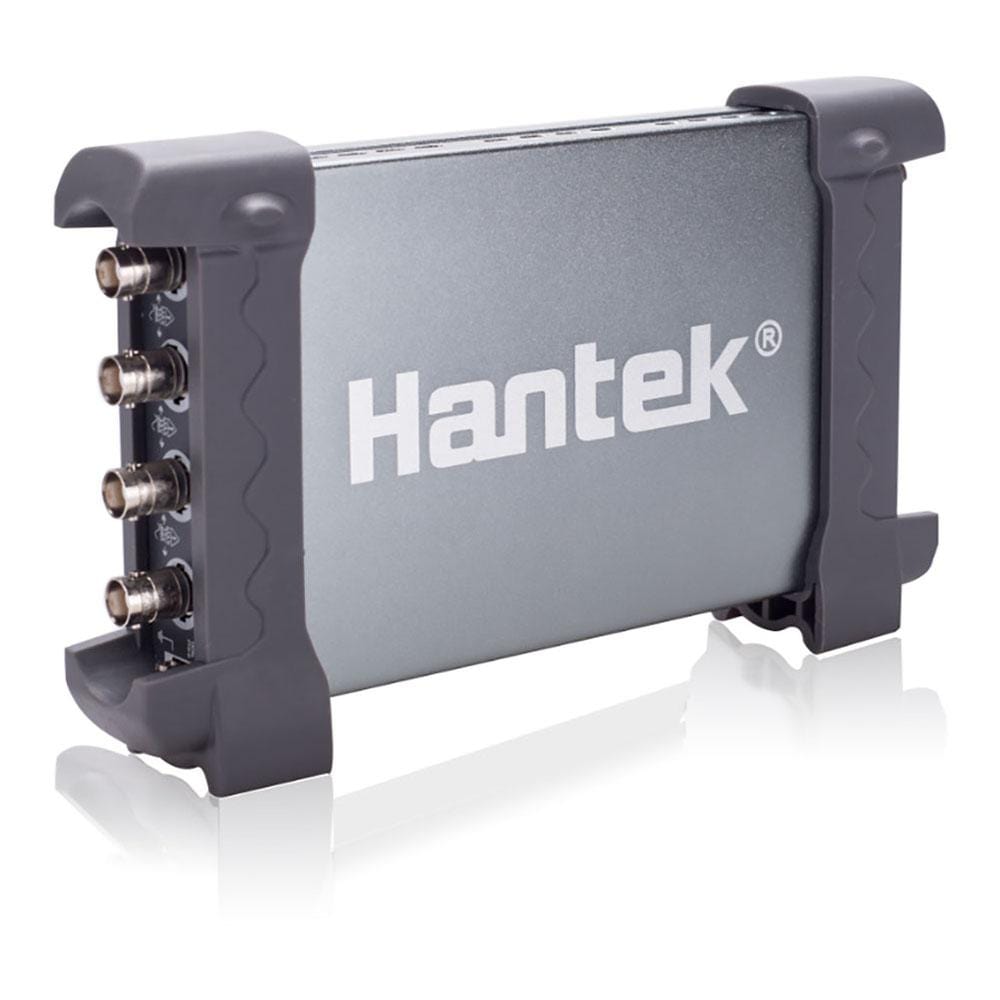 Specification
Model

Hantek-6074BE

Bandwidth

70MHz

Automotive Measurement Function

Intake manifold vacuum & ignition, Petrol fumes adjusting valve vacuum & ignition, Idle exhaust ignition, Starting exhaust ignition;

Sensor: Air Flow Meter, Camshaft, Crankshaft, Distributor, Lambda sensor, Throttle position;

CAN bus data examine, CAN bus signal integrity, CAN bus LH long time acquisition, LIN bus;

Performer: Petrol/Diesel;

Starter and charging circuits

Channel

4-ch

Real-time Sampling Rate

1GSa/s

Memory Depth

64K

Time Base Precision

±50ppm

Time Base Range

2ns/div-1000s/div (1-2-4 sequences)

Input Impedance

1MΩ 25pF

Input Sensitivity

2mV/div~10V/div 

Vertical Resolution

8Bit

Vertical Displacement Range

2mV ~ 10V/div @ x1 probe; 20mV ~ 100V/div @ x10 probe;
 200mV ~ 1000V/div @ x100 probe; 2V ~ 10000V/div @ x1000 probe

DC Gain Accuracy

±3%

Bandwidth Limit

20MHz

Trigger Mode

Edge, Pulse, Video, Alternative

Trigger Source

CH1, CH2, CH3,CH4

Waveform Signal Process

+,-,x,÷,FFT, Invert

Cursors Measurement

Cross, Trace, Horizontal, Vertical

Auto Measurement

Vpp, Vamp, Vmax, Vmin, Vtop, Vmid, Vbase, Vavg, Vrms, Vcrms, Preshoot, Overshoot, Frequency, Period, Rise Time, Fall Time, Positive Width, Negative Width, Duty Cycle

Volume

175mm * 105mm * 25mm

Weight

0.9KG

Accessory

2 passive probes, 2 gator clip lines
Hantek-6074BE 4-ch Automotive Oscilloscope
Frequently Asked Questions
Have a Question?
Be the first to ask a question about this.
Ask a Question
Download Files
Hantek 6074BE
Haven't had chance use it properly yet but it seems ok for the money. The software seemed to crash every so often but maybe because I'm using Windows 10?
David, I suggest that you download the latest version of the software from the Hantek website. Windows 10 is supported by Hantek. Please get in touch with me if you are still having problems.
John Legg