Regular price
$262.00 USD
excluding tax
Regular price
Sale price
$262.00 USD
excluding tax
Unit price
per
Sale
Sold out
Pre-Ordered items ship within 5 days of ordering
The ΩhmRanger-LCV™ is a low-compliance Voltage/Ohmmeter, designed to keep the test voltage less than 400mV.  It can measure resistance from 10Ω to 100MΩ.
The ΩhmRanger-LCV™ is essential when measuring the resistance of a component that is delicate. Most ohmmeters will apply a stimulus voltage to the Device Under Test (DUT) of 3-10V. This stimulus voltage may destroy what you are trying to investigate!
View full details
SKU: OhmRanger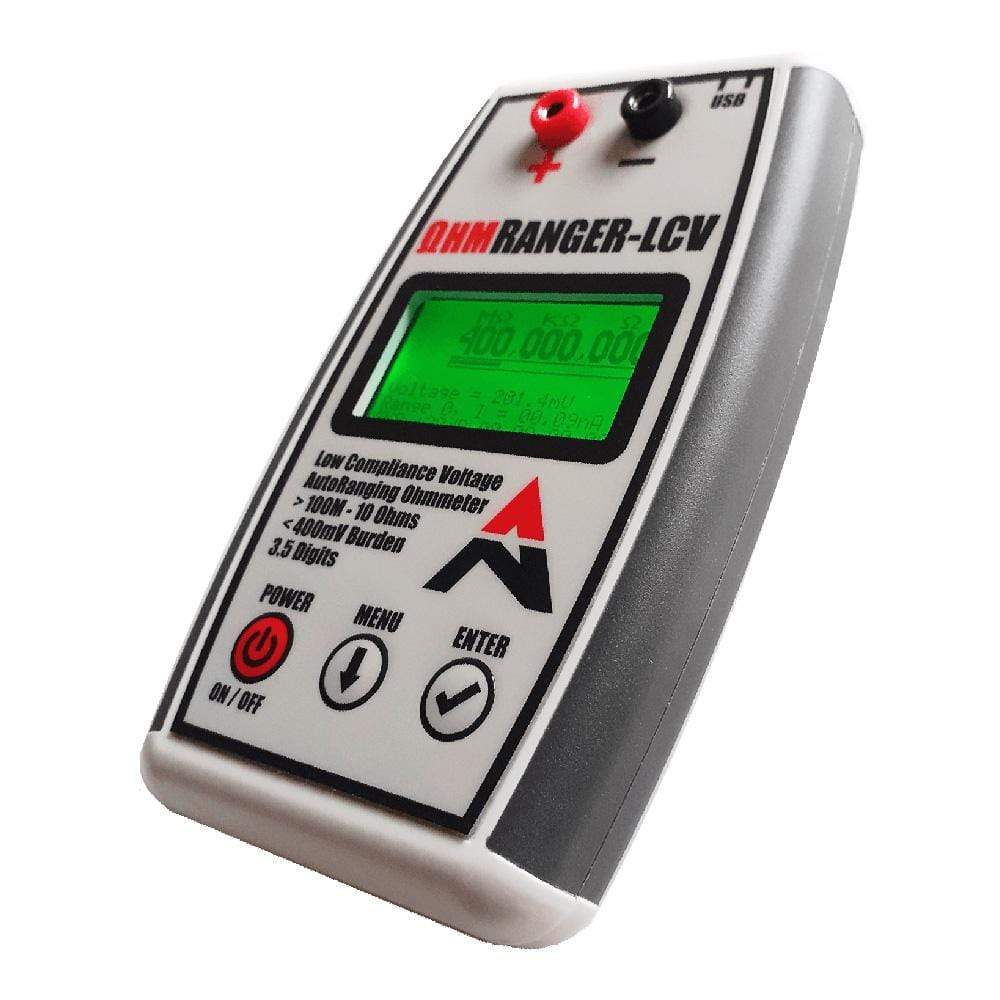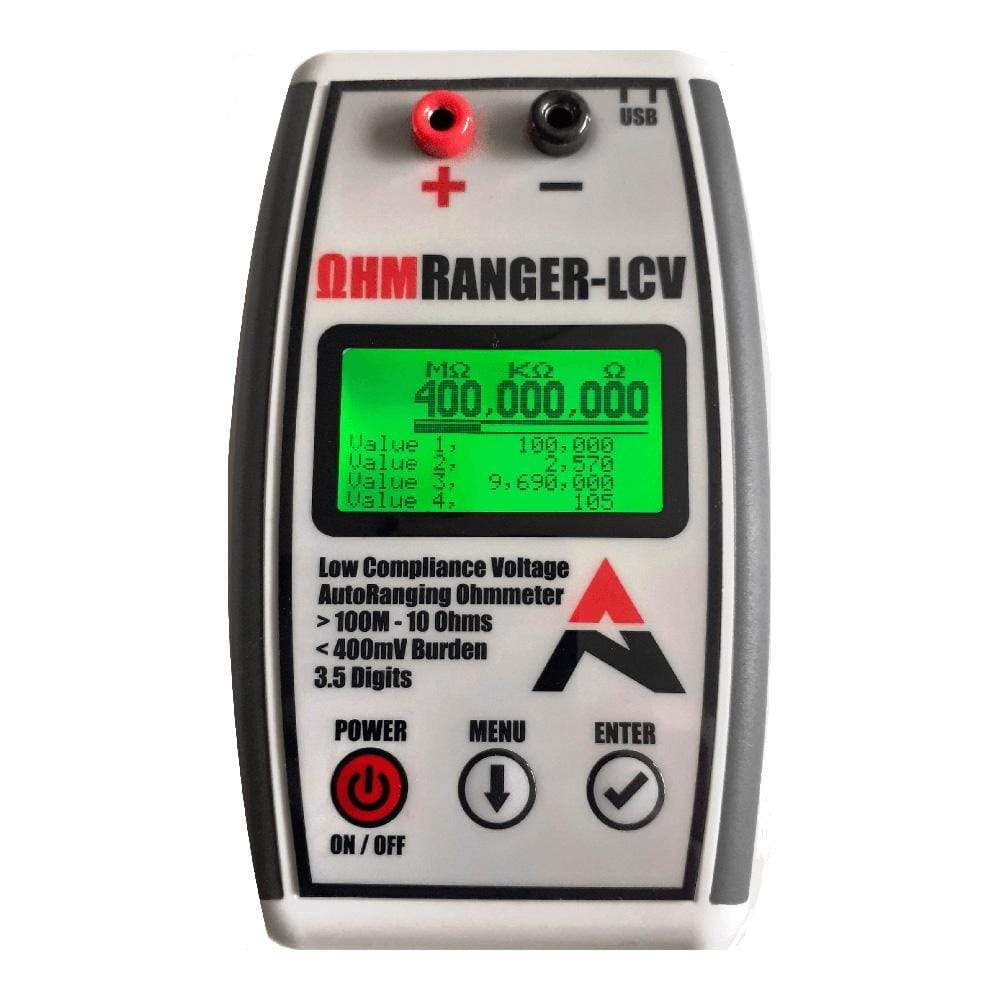 Features*
 Low stimulus voltages, selectable between approx 380mV or approx 205mV.
Stimulus voltage at the output terminal is limited by the maximum current supply of approx 20mA. 
Accurate readings from >100M to 10 Ohms.
A 128 x 64 LCD display gives a wealth of information about your Resistance readings.
A large display shows MΩ, KΩ, and Ω, all on one line.
Readings every 400mS, built up from 160 samples and averaged to tune out mains noise (both 50 Hz and 60 Hz).
Fully isolated USB Interface for device control and readings export.
SNR display indicates noise level on signal.
On-screen confirmation of stimulus voltage.
Range Bar movement after every reading shows that ΩhmRanger-LCV™ is operating correctly.
Range Coverage Bar shows the ranges covered during the measurement. 
User-configurable Auto Power-off timer.
ΩhmRanger-LCV™ is highly portable with dimensions of 148 x 90 x 30mm. 
2 x AA batteries should give around 150 hours of operation.
 * Features may be subject to change.
A Real Customer Need - Met
The Josephson Junction is the Quantum Computer's equivalent of a 'transistor'. Although it is delicate, the ΩhmRanger-LCV™ can measure its resistance without risking its integrity.
D-Wave Systems, the Quantum Computing systems and services company, needs to measure the resistance of their Josephson Junctions. Working closely, a prototype Low Compliance Voltage Ohmmeter was quickly developed and the design was subsequently refined through testing and practical lab use. The result is the  ΩhmRanger-LCV™, the low compliance voltage ohmmeter, scheduled for general release in October 2021.
On completion of test and evaluation, D-Wave commented;
"The AltoNovus ΩhmRanger-LCV turned an error-prone measurement into a simple measurement ..... a valuable addition to our work building quantum computers."
 "The fundamental element in D-Wave's unique product is a Josephson Junction - this is the "transistor" in a quantum computer. In practice, these devices are extremely sensitive and easy to damage. Measuring the resistance with a standard multimeter will destroy the Josephson Junction.
The AltoNovus ΩhmRangerLCV turned an error-prone measurement into a simple measurement. The low compliance voltage ensures that the device under test never sees a stimulus above 400mV. The ΩhmRanger-LCV measures a wide resistance range, and the upper end of the range (400MOhm) ΩhmRanger-LCV makes it simple. This, in addition to a nice group of features, including a quality metric - signal-to-noise, continual indication of the stimulus voltage, and a cute mode for measuring microscopic pins while looking through a microscope, makes this device a valuable addition to our work building quantum computers."
Altonovus ΩhmRanger-LCV™ Low Compliance Voltage Ohmmeter
Frequently Asked Questions
Have a Question?
Be the first to ask a question about this.
Ask a Question
Download Files
What's Included
Altonovus ΩhmRanger-LCV™ Low Compliance Voltage Ohmmeter