When pre-ordered, this item normally ships within 10 working days
The mikroMedia™ for XMEGA board is a high-quality, compact development board designed with a lot of on-board peripherals and fantastic new features. Equipped with mighty ATXMega128A1 microcontroller, the board can handle multimedia content quite well. One of the most interesting feature of mikroMedia™ for XMEGA is the 320x240 TFT display with touch panel. The other integrated modules include: stereo MP3 codec, accelerometer, battery charger, USB UART, microSD card slot, communication LEDs, and more.
This development system comes pre-programmed with fast UART Bootloader, so the user doesn
View full details
SKU: MIKROE-755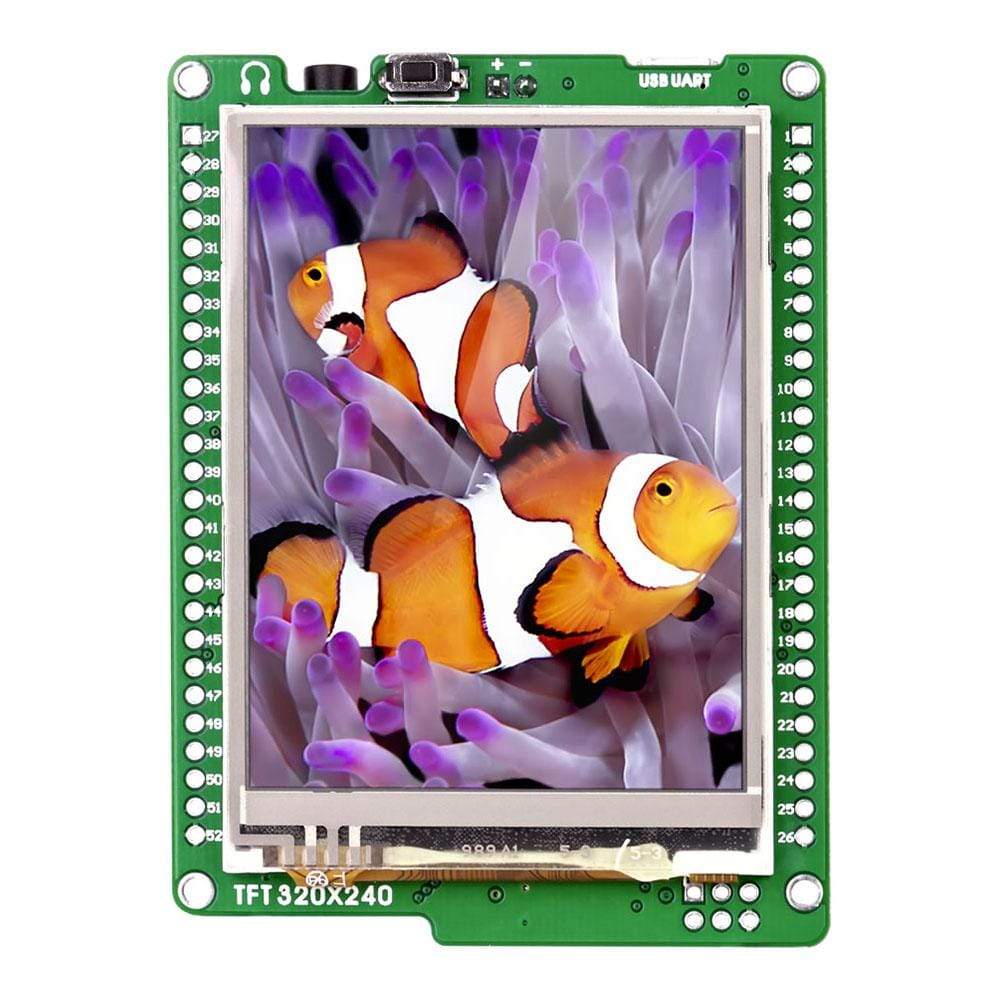 ATxmega128A1 Microcontroller
The integrated ATxmega128A1 microcontroller aboard mikroMedia™ for XMEGA development system is a high-performance 8-bit microcontroller with up to 32 MIPS operation. The microcontroller with its integrated modules and in combination with other on-board modules is an ideal choice for multimedia applications. It comes with 128 KB of Flash memory; 8 KB of SRAM memory; 2048 Bytes of EEPROM, and 78 I/O pins.
Power Supply Options
The mikroMedia™ for XMEGA board can be powered using MINI-B USB cable provided with the board. The on-board voltage regulators will provide the appropriate voltage levels to each part of the board. The board can also be powered using a Li-Polymer battery through the on-board Molex 5264 battery connector. The MCP73832 battery charger circuit allows user to charge the battery over USB connection.
Programming the Microcontroller
The microcontroller can be programmed in two ways: over UART mikroBootloader and using external PDI programmer. The UART bootloader is pre-programmed by default. The microcontroller can also be programmed with an external in-circuit programmer/debugger (not included). The board has pads for installing a PDI programming header compatible with the AVRISP mkII, AVR JTAGICE mkII, AVR-ISP-MK2, or other supported programmer with PDI interface.
mikroMedia for XMEGA
Frequently Asked Questions
Have a Question?
Be the first to ask a question about this.
Ask a Question