Dual-Channel 100K Linear Digital Potentiometer
Key Features
Dual-channel, linear-taper digital potentiometer, can be used as a three-terminal potentiometer, or a two-terminal rheostat, non-volatile memory for storing wiper position, 256-position resolution, single-supply, fast power-up response time to wiper settings, 100K end-to-end resistance, and more
Based on the TPL0102 - dual-channel digital potentiometer with non-volatile memory from Texas Instruments
Can be used for developing adjustable gain amplifiers and offset timing, adjustable power supplies, precision calibration of set point thresholds, sensor timing and calibration, and more
Introducing the Revolutionary DIGI POT 14 Click Board™: The Ultimate Solution for Precision Control!
Are you in search of a compact, efficient, and digitally controlled potentiometer that stands out in the market? Look no further! We present to you the DIGI POT 14 Click Board™, a groundbreaking product featuring the TPL0102 from Texas Instruments, designed to meet all your needs for adjustable gain amplifiers, offset timing, adjustable power supplies, precision calibration of set point thresholds, sensor timing, and calibration.
Unparalleled Features
Dual-Channel Digital Potentiometer: The TPL0102 enables the board to have two channels, allowing for versatile applications.
Non-Volatile Memory: The wiper position can be stored in EEPROM, ensuring no loss of data.
High Resolution: With a 256-position resolution, it offers precise control and adjustments.
Optimal Resistance: A 100K resistance end-to-end potentiometer.
Temperature Coefficient: Provides a typical 92ppm/ºC end-to-end nominal resistance temperature coefficient and only 4ppm/ºC ratiometric.
Voltage Operation: Can operate from both 3.3V and 5V power supplies.
Benefits & Applications
The DIGI POT 14 Click Board™ is not just another digital potentiometer; it's a compact solution that brings a plethora of benefits and is ideal for various applications including:
Developing Adjustable Gain Amplifiers and Offset Timing: Achieve precise control and adjustments.
Adjustable Power Supplies: Tailor your power supplies to meet specific needs.
Precision Calibration of Set Point Thresholds: Attain accurate calibration every time.
Sensor Timing and Calibration: Ensure your sensors are perfectly timed and calibrated.
Ease of Development
Supported by a mikroSDK-compliant library, this Click board™ simplifies software development with functions that streamline the process, making it a breeze even for those who are new to the field. It comes as a fully tested product, ready to be used on a system equipped with the mikroBUS™ socket.
Why Choose DIGI POT 14 Click Board™?
Innovative Design: Compact and efficient, it is designed to meet diverse needs.
High Precision: Offers unparalleled control and adjustments.
Versatility: Suitable for a wide range of applications.
Ease of Use: Simplified software development and ready-to-use on compatible systems.
View full details
SKU: MIKROE-5814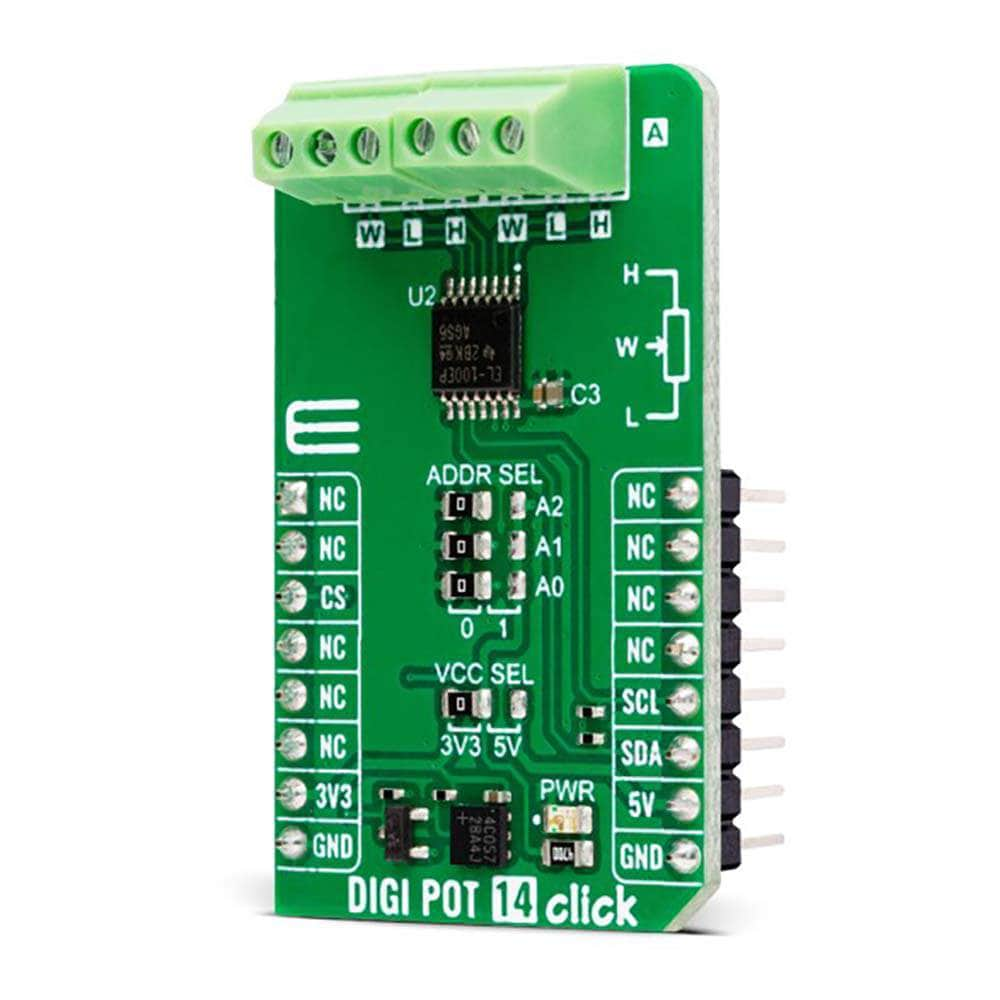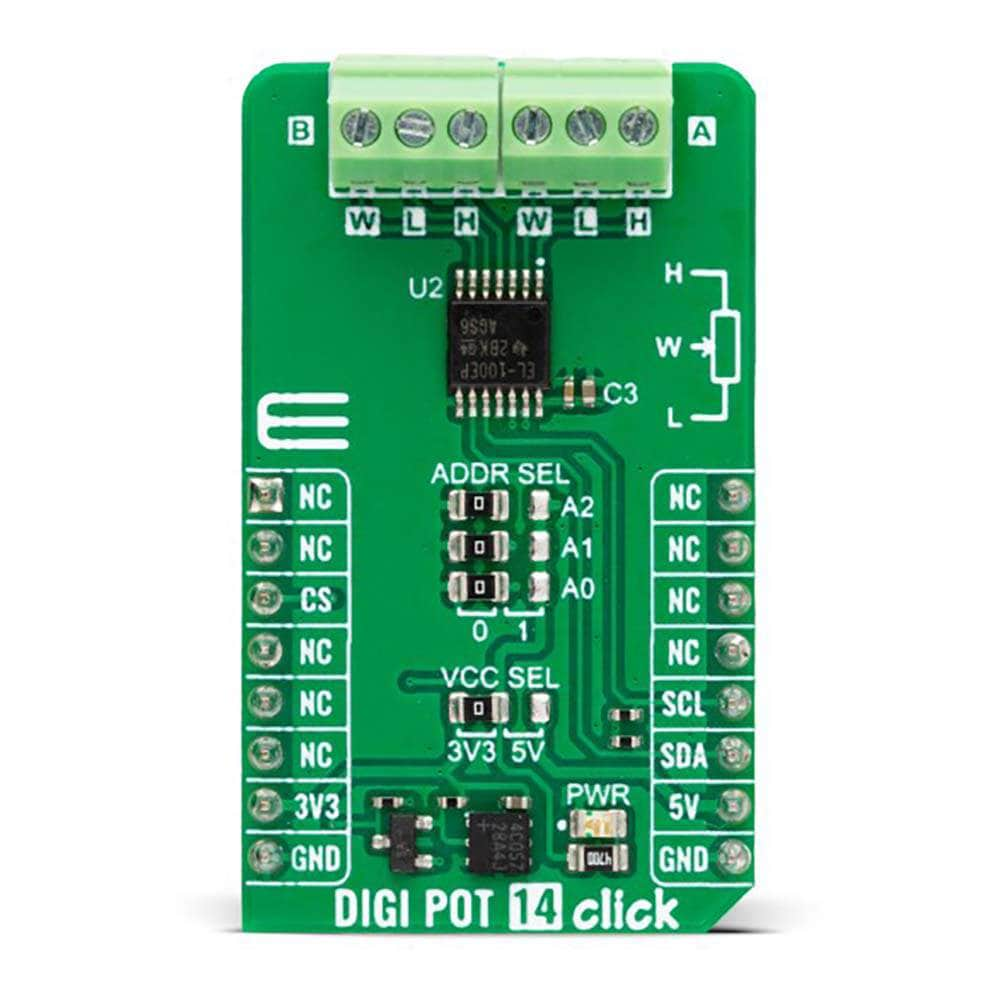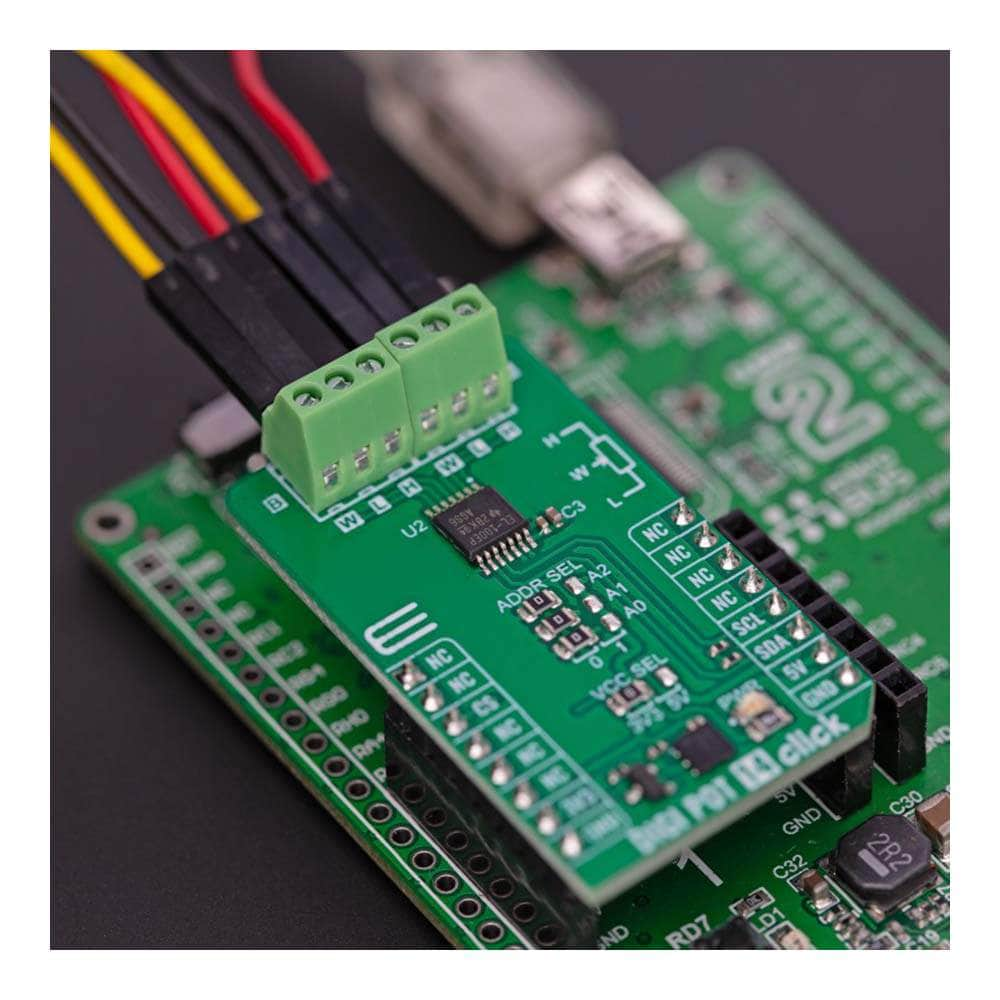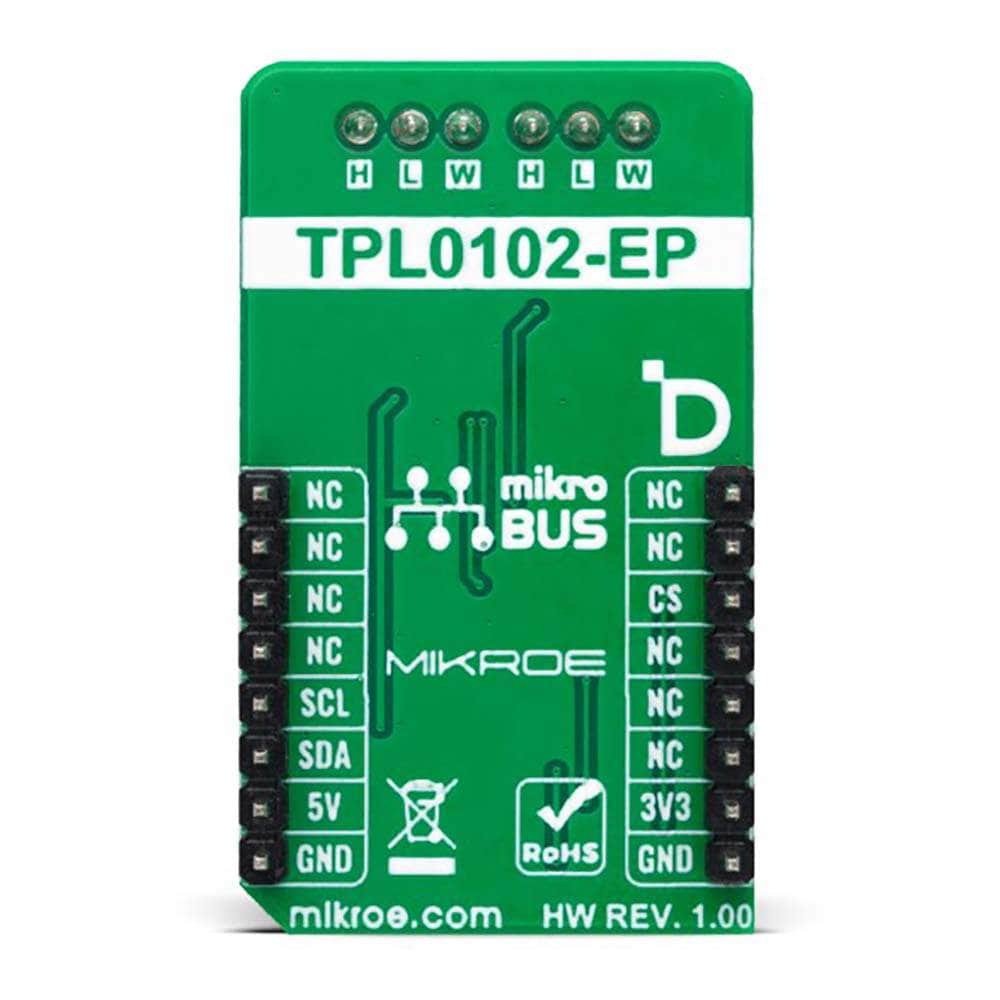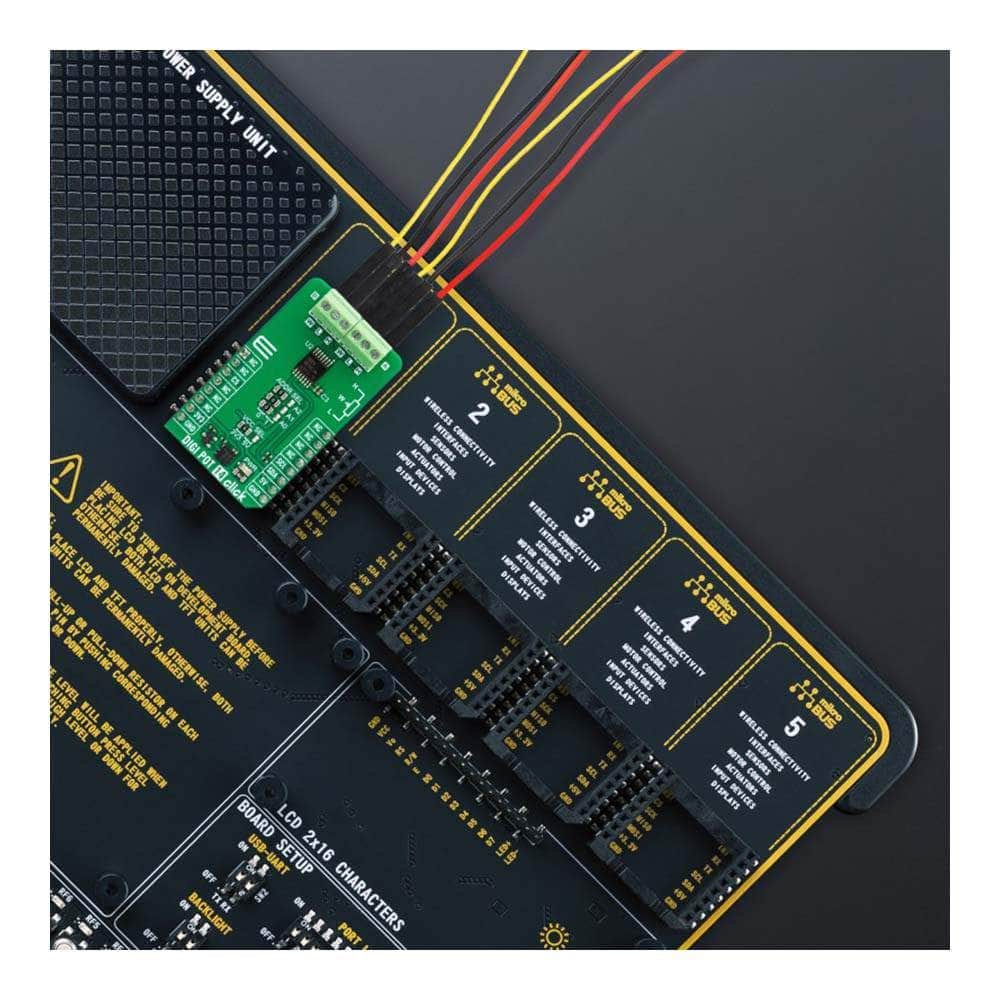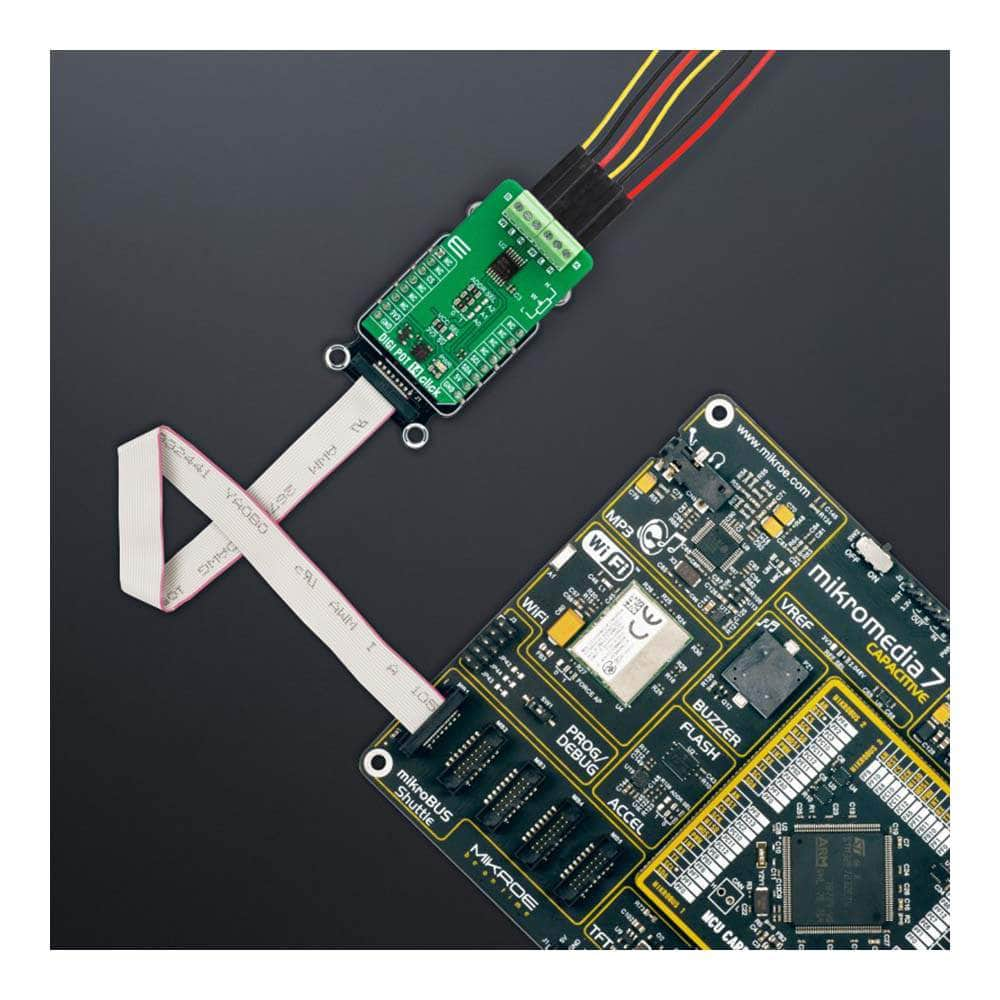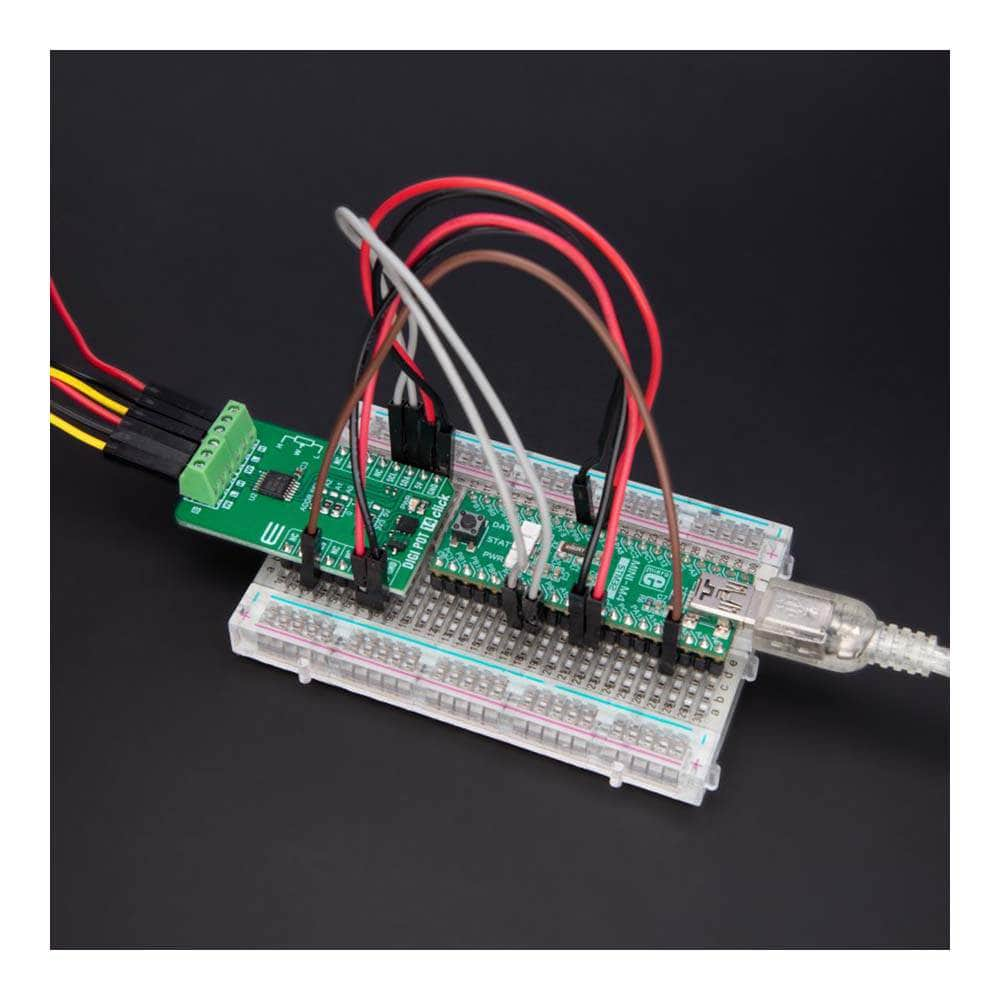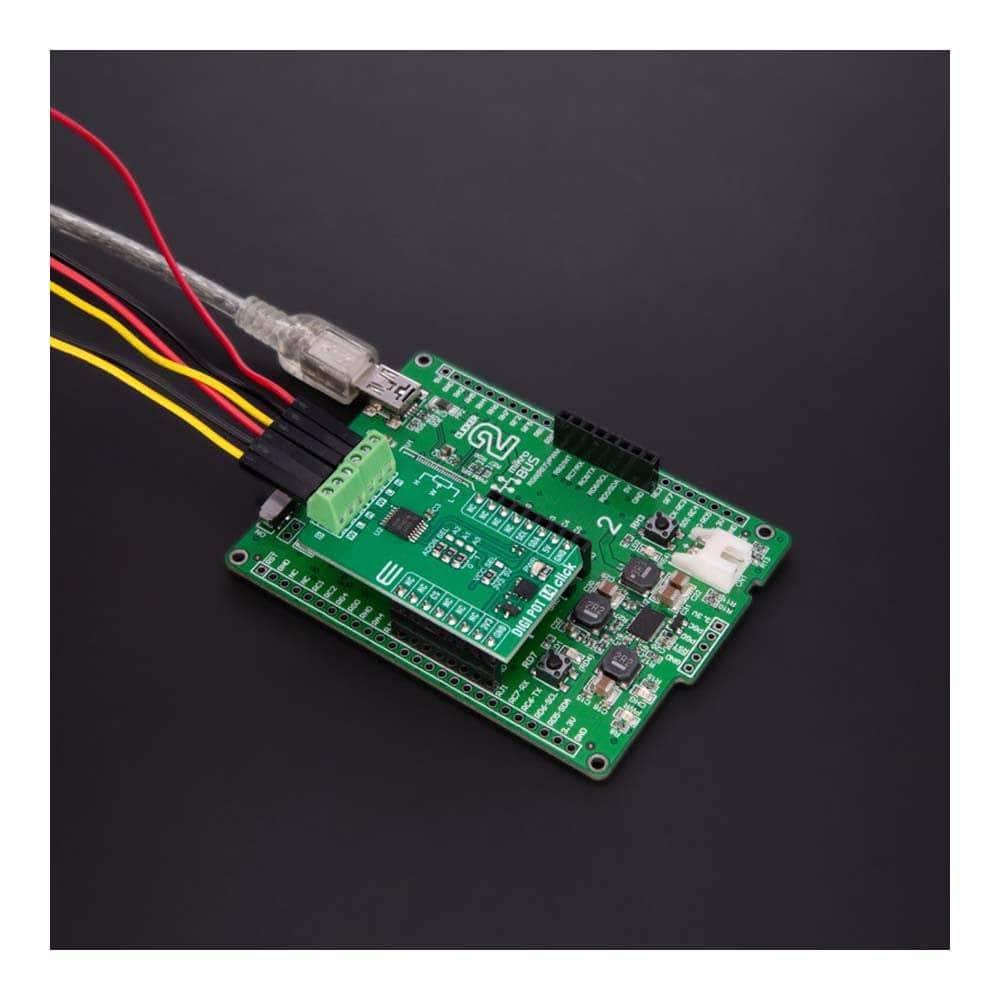 DIGI POT 14 Click Board
Frequently Asked Questions
Have a Question?
Be the first to ask a question about this.
Ask a Question