WiFi and Bluetooth 5 Module
Key Features
Highly integrated module, printed PCB antenna, ESP8684 32-bit RISC-V single core processor at 120MHz (272KB SRAM, 576KB ROM), WiFi 802.11b/g/n modes (Station, SoftAP, Station+SoftAP, promiscuous), WiFi Multimedia, Bluetooth 5, high power mode 20dBm, multiple advertisement sets, and more
Based on the ESP8684-MINI-1 - highly integrated WiFi, and a Bluetooth 5 module from Espressif Systems
Can be used for the development of smart home applications, industrial automation, consumer electronics, health care, smart agriculture, and more
mikroBUS: UART and USB Interfaces
Introducing the ESP8684 Click Board™: Your Ultimate Wireless Solution
The ESP8684 Click Board™ is your compact powerhouse for wireless connectivity. This remarkable add-on board houses the cutting-edge ESP8684-MINI-1 module, a true marvel crafted by Espressif Systems. Get ready to experience seamless integration of WiFi and Bluetooth 5 capabilities in one sleek package.
Unleash Versatility
With the ESP8684 Click Board™, versatility is at your fingertips. This module supports a range of modes, including BSS in Station mode, SoftAP mode, Station + SoftAP mode, and promiscuous mode. Whether it's connectivity on the go or a dedicated setup, this board covers you.
Empower Your Bluetooth Experience
Discover a new dimension of Bluetooth technology with the ESP8684 Click Board™. Dive into central role and peripheral role functionalities with Bluetooth 5 support. Your connectivity options have never been more diverse.
Seamless Software Management
Upgrade, customize, and upload your own software effortlessly with the ESP8684 Click Board™. The USB C connector simplifies the process, giving you complete control over your module's capabilities.
Endless Possibilities
The ESP8684 Click Board™ is your gateway to innovation. Craft smart home applications, revolutionize industrial automation, enhance consumer electronics, redefine healthcare solutions, delve into smart agriculture, and beyond. The potential is limitless.
Experience Simplified Development
The power of the ESP8684 Click Board™ is amplified by its mikroSDK-compliant library. This treasure trove of functions streamlines your software development journey, making your ideas a reality with ease.
Ready for Action
Rest assured that the ESP8684 Click Board™ arrives fully tested and primed for action. Seamlessly integrate it into your system with the mikroBUS™ socket, and witness the magic unfold.
Unlock the future of wireless connectivity. Choose the ESP8684 Click Board™ today and transform your possibilities.
View full details
SKU: MIKROE-5803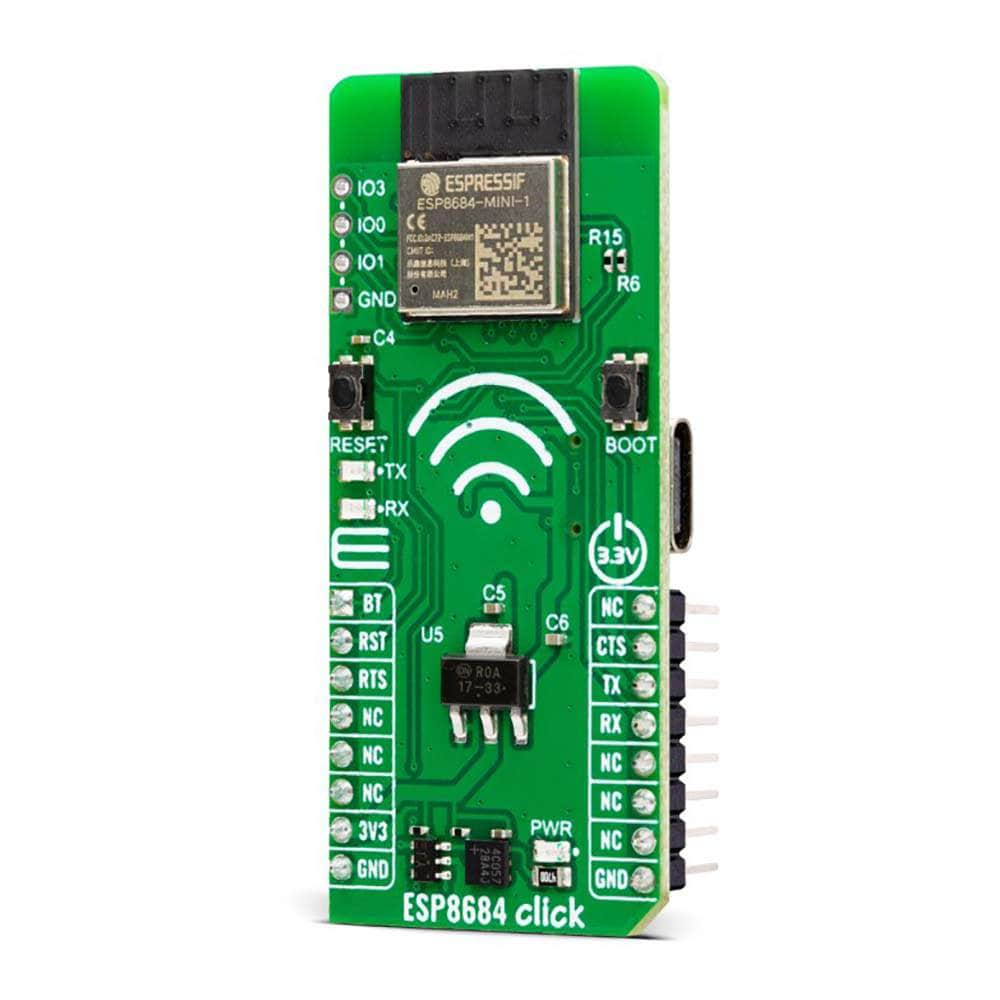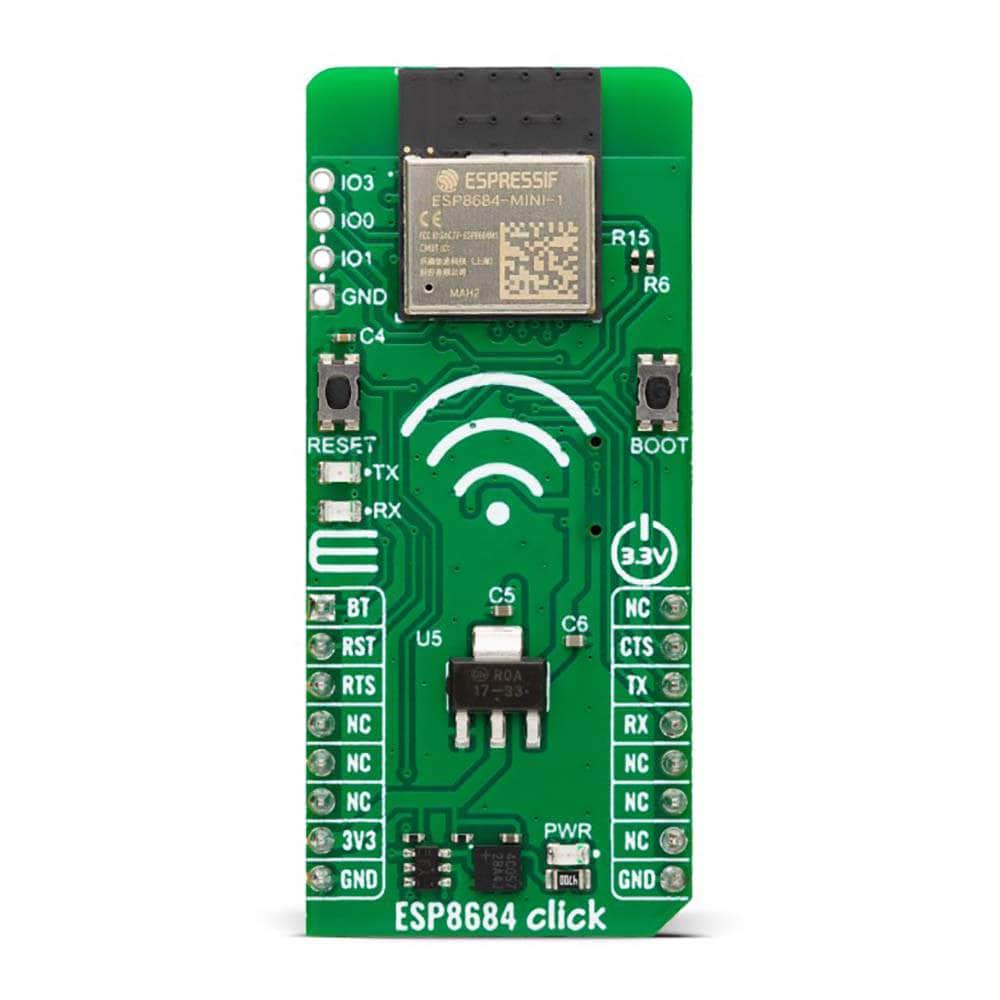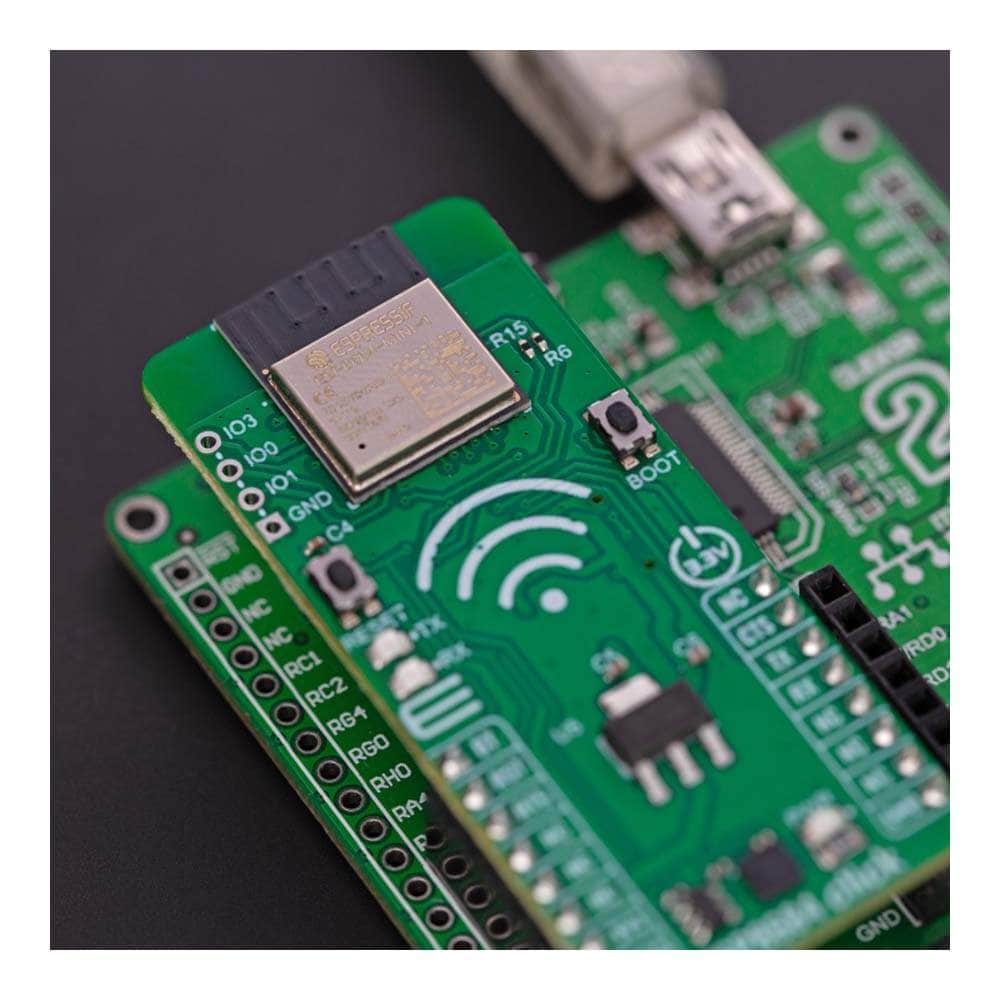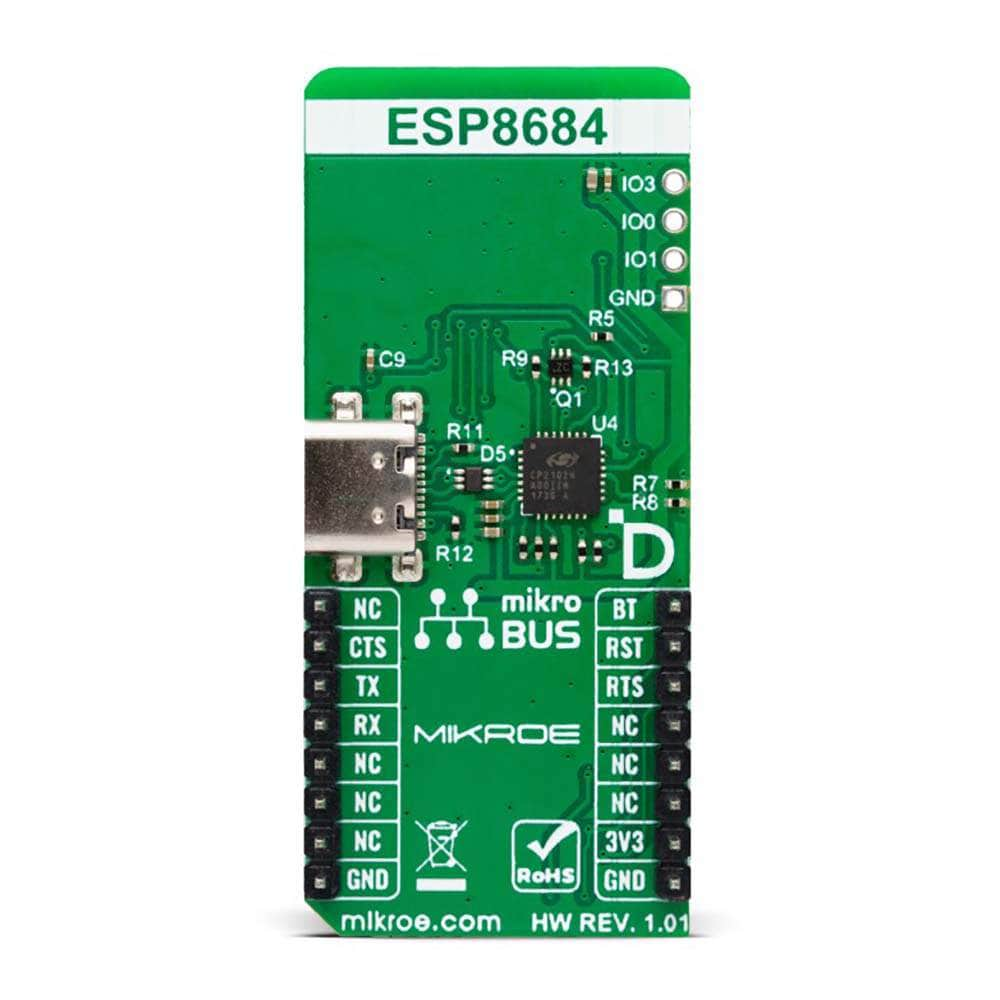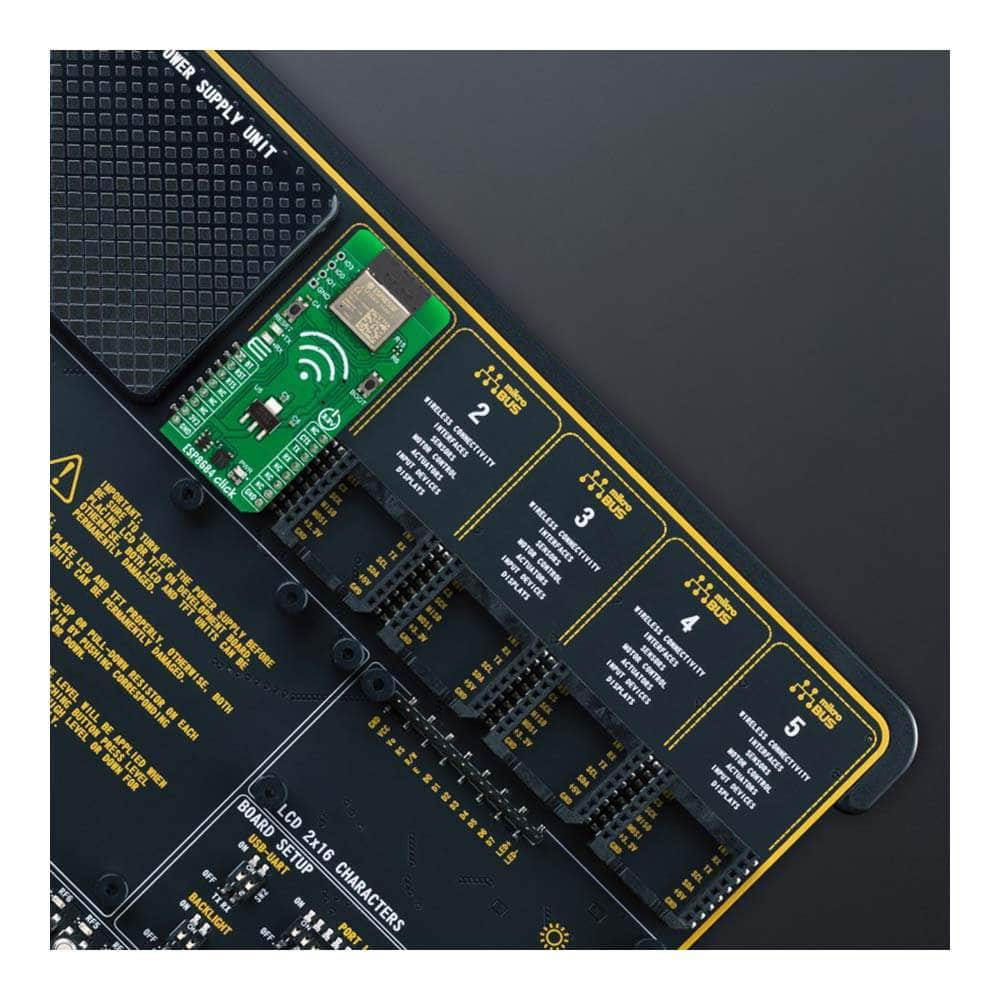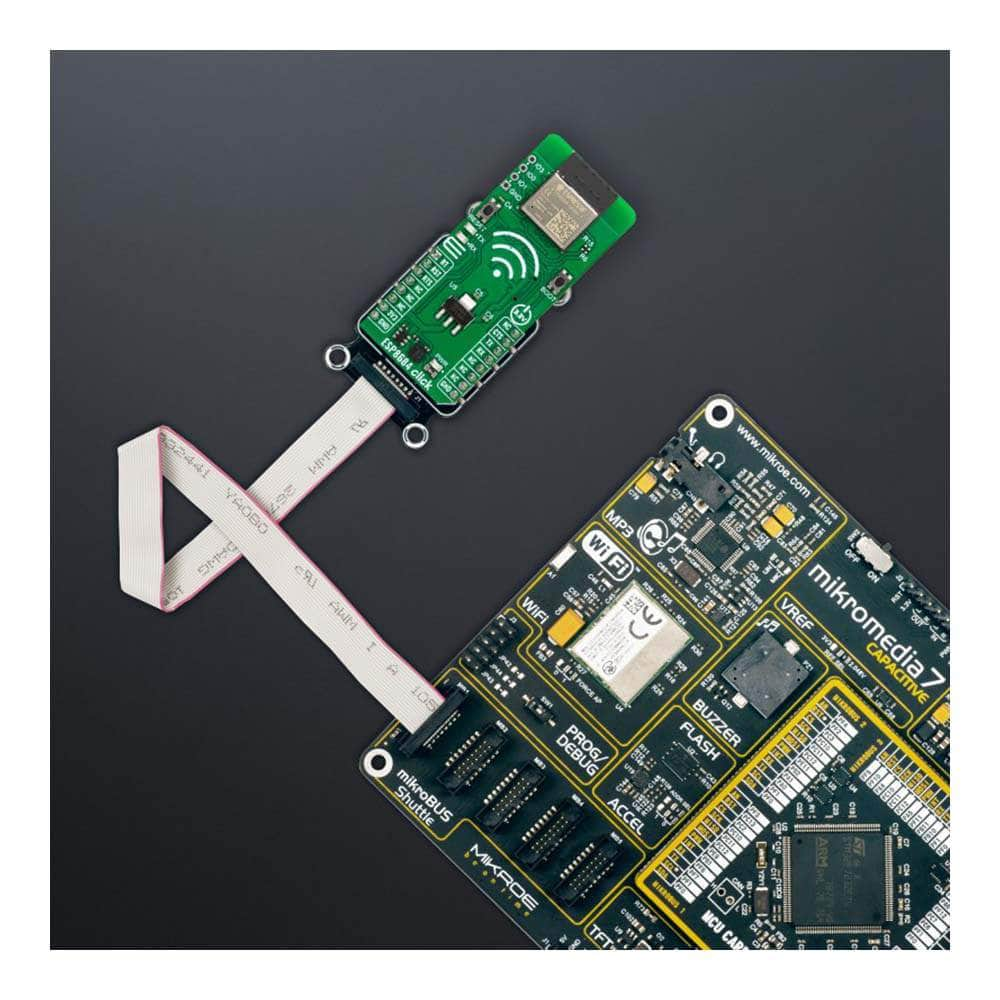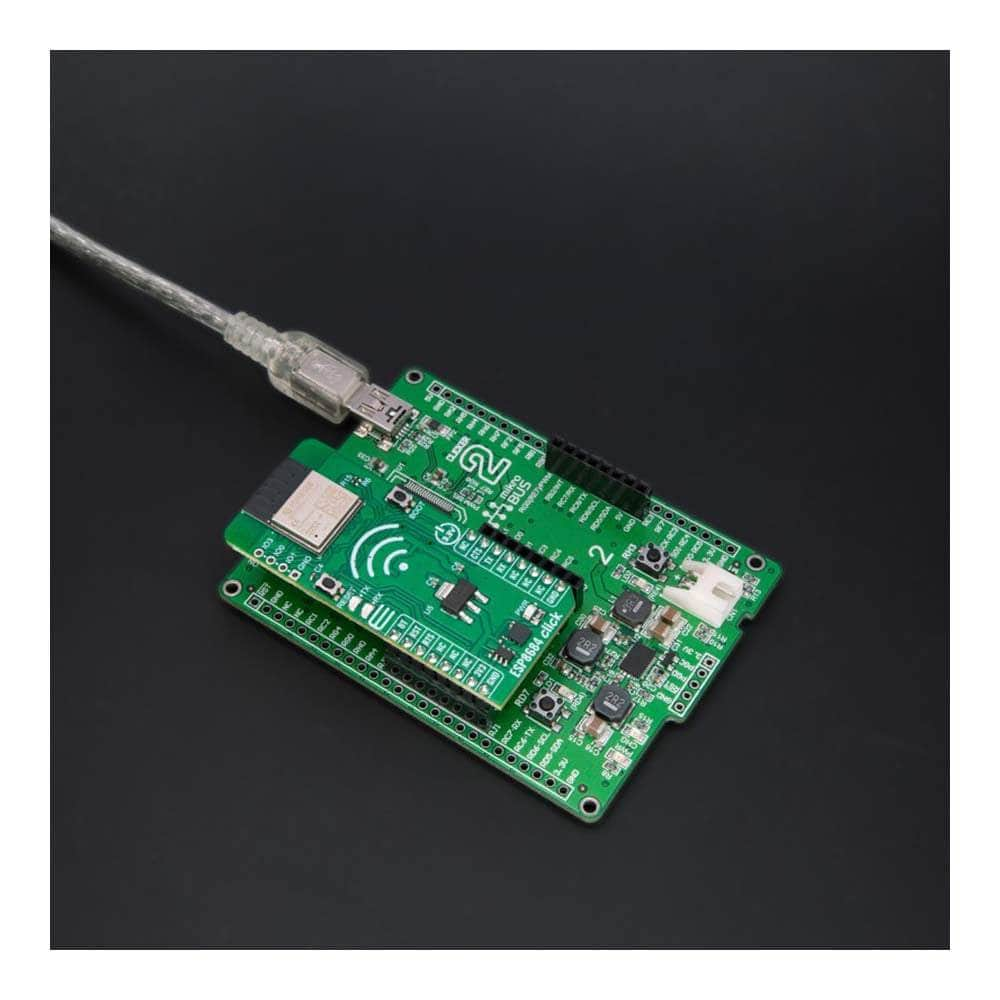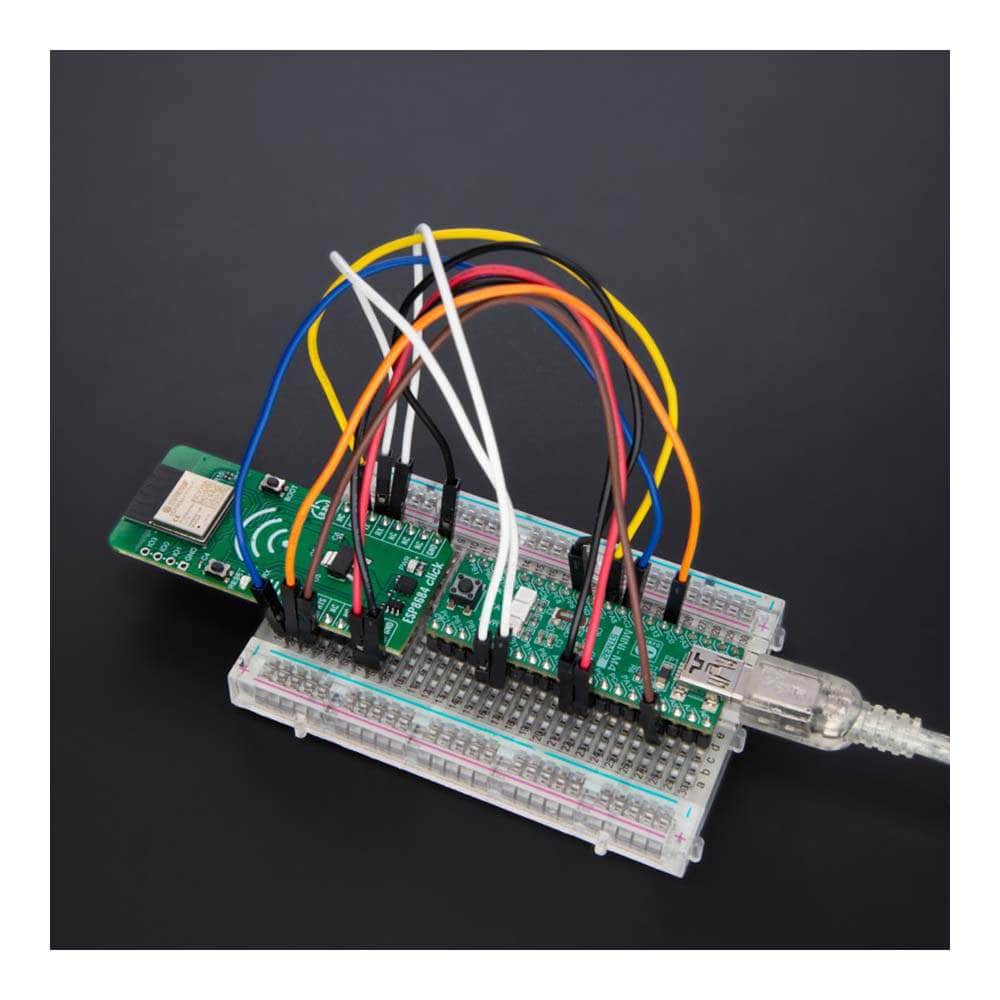 ESP8684 Click Board
What are the key features of the ESP8684 Click Board™?

Highly integrated WiFi and Bluetooth 5 module Supports BSS in Station mode, SoftAP mode, Station + SoftAP mode, and promiscuous mode Bluetooth 5 supports central role and peripheral role USB Type-C connector for direct communication between the ESP8684 module and a PC Auto-reset circuit and CP2102N USB-to-UART bridge for uploading software to the ESP8684 module RX and TX LEDs for visual confirmation of data exchange

What is the ESP8684 Click Board™?

The ESP8684 Click Board™ is a compact add-on board that features the ESP8684-MINI-1, a highly integrated WiFi and Bluetooth 5 module from Espressif Systems. It is designed for the development of smart home applications, industrial automation, consumer electronics, health care, smart agriculture, and more