When pre-ordered, this item normally ships within 10 working days
Add GSM/GPRS functionality to the device with the SmartG100 Board. It is a full-featured development system for u-Blox Leon-G100 GSM/GPRS, class 10 module. The user just needs to supply a power supply voltage of 9-32V DC or 7-23 AC, insert a SIM card, connect a GSM antenna, and the user is set to develop GSM-GPRS-based devices. The board is equipped with an antenna connector, SIM card socket, and a voltage regulator. The SmartG100 Board has a DIP switch for configuring communication lines with the target microcontroller. The board uses the IDC10 connector with a 2.54mm pin header for connection with peripheral modules. It has mounting holes on each corner to facilitate integration in the user design.
The SmartG100 Board with such features, make an ideal choice for M2M and automotive applications, such as surveillance and security, fleet management, people and asset tracking, and Point of Sales (PoS) terminals.
View full details
SKU: MIKROE-542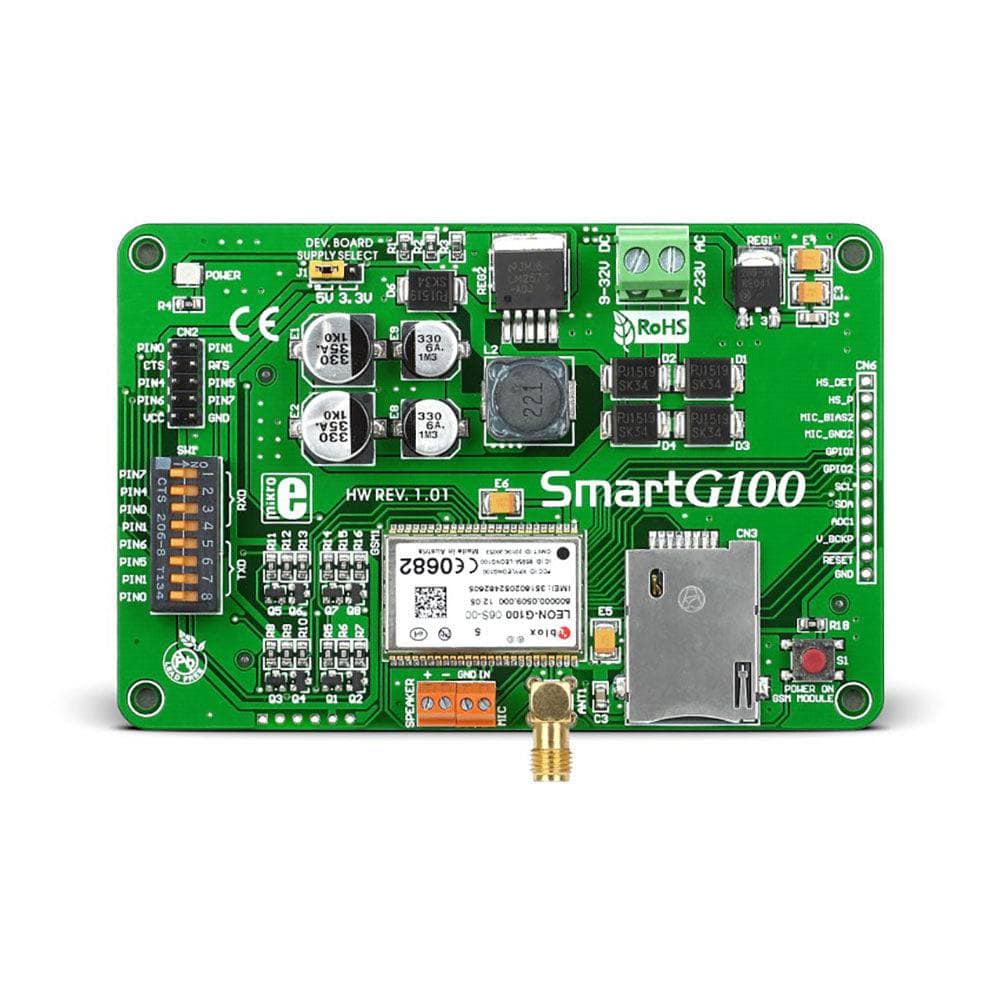 IC/Module: uBlox Leon-G100 GSM/GPRS Module
Leon-G100 module is a complete quad-band GSM/GPRS development device to provide data and voice communication in a small-sized and cost-effective SMT form factor. This fully qualified module works on low-power and driven by a rich set of Internet protocols. It is ideally suited to M2M and automotive applications. It also implements fully integrated access to u-blox GNSS receivers.
Board Connections
The SmartG100 Board connects with the development system using a flat cable with IDC10 connector and make connection between a 2x5 male header on development system port and 2x5 male header CN1 on the additional board. Depending on the development system used, the user needs to turn ON appropriate switch on DIP switch SW1. For power supply, the SmartG100 Board is connected to external power supply via AC/DC connector CN1. The board is connected to microphone using screw terminal CN4 (MIC).
SmartG100 Board
Frequently Asked Questions
Have a Question?
Be the first to ask a question about this.
Ask a Question