When pre-ordered, this item normally ships within 10 working days
The Easy24-33 v6 Development System is a full-featured, general-purpose development board intended for programming and experimenting with PIC24 and dsPIC33 devices from Microchip. This development system features an onboard USB 2.0 programmer with MikroICD support that acts as an interface between the microcontroller and a PC.
The onboard LvPICFlash programmer can be used for external programming. It comes equipped with a wide range of peripheral modules, such as Touch Sense, Serial RAM, Serial EEPROM, Piezo Buzzer and many more, which enable the user to efficiently simulate the operation of the target device. The Easy24-33 v6 Development System comes with a PIC24F16KA102 microcontroller included in a 28-pin DIP socket. The board is provided with a 14-pin socket, an 18-pin socket, two 20-pin sockets, and three 28-pin sockets to install any of the 60 supported microcontrollers.
The Easy24-33 v6 Board features a large prototyping area to design customized circuits on the board. The onboard screw terminals and header pins enable power and I/Os access. For power supply, the user can either go for a +5V PC power supply via the USB programming cable or use an external power supply source.
View full details
SKU: MIKROE-510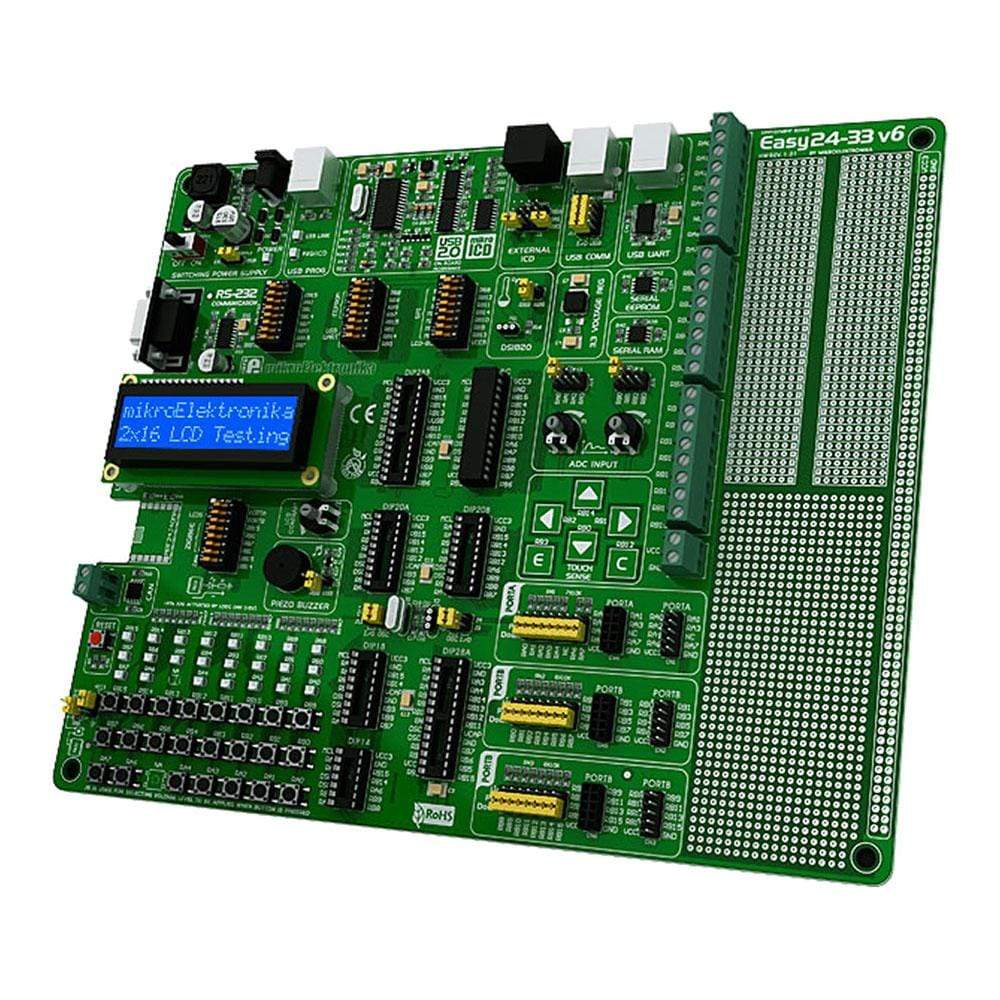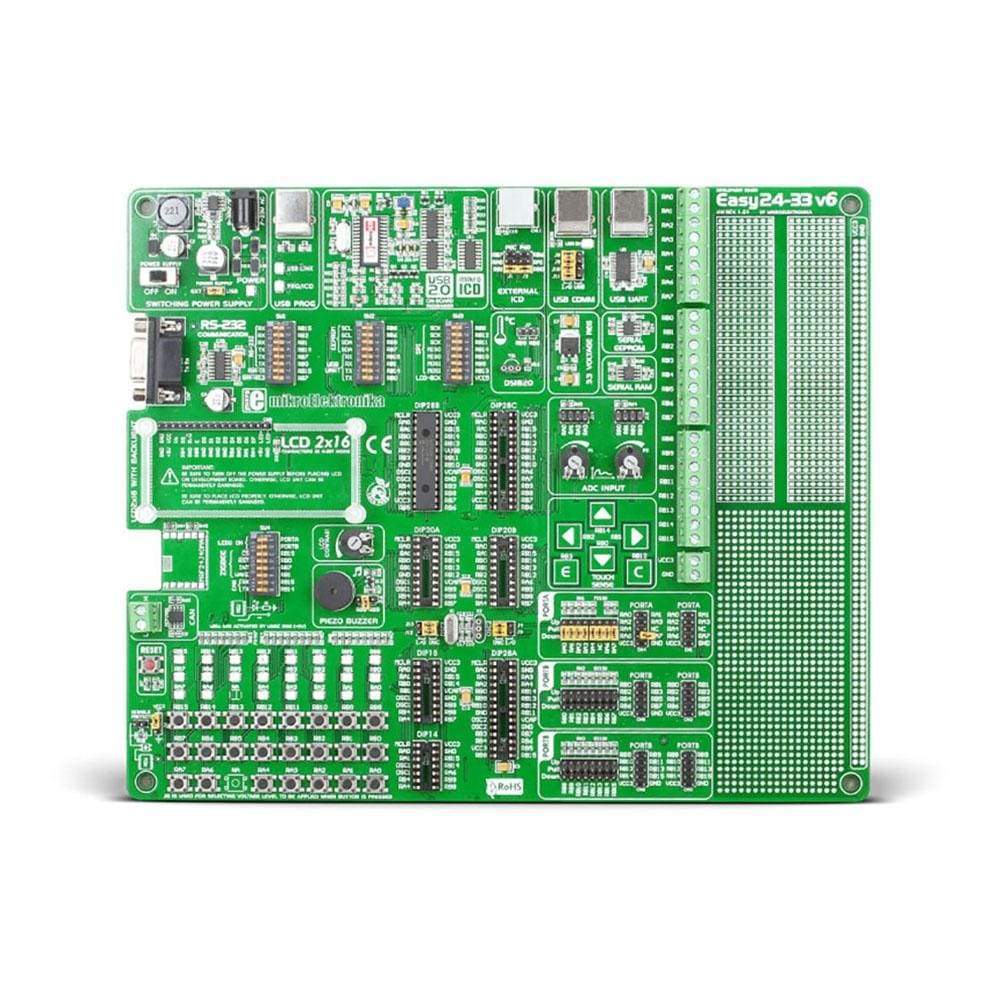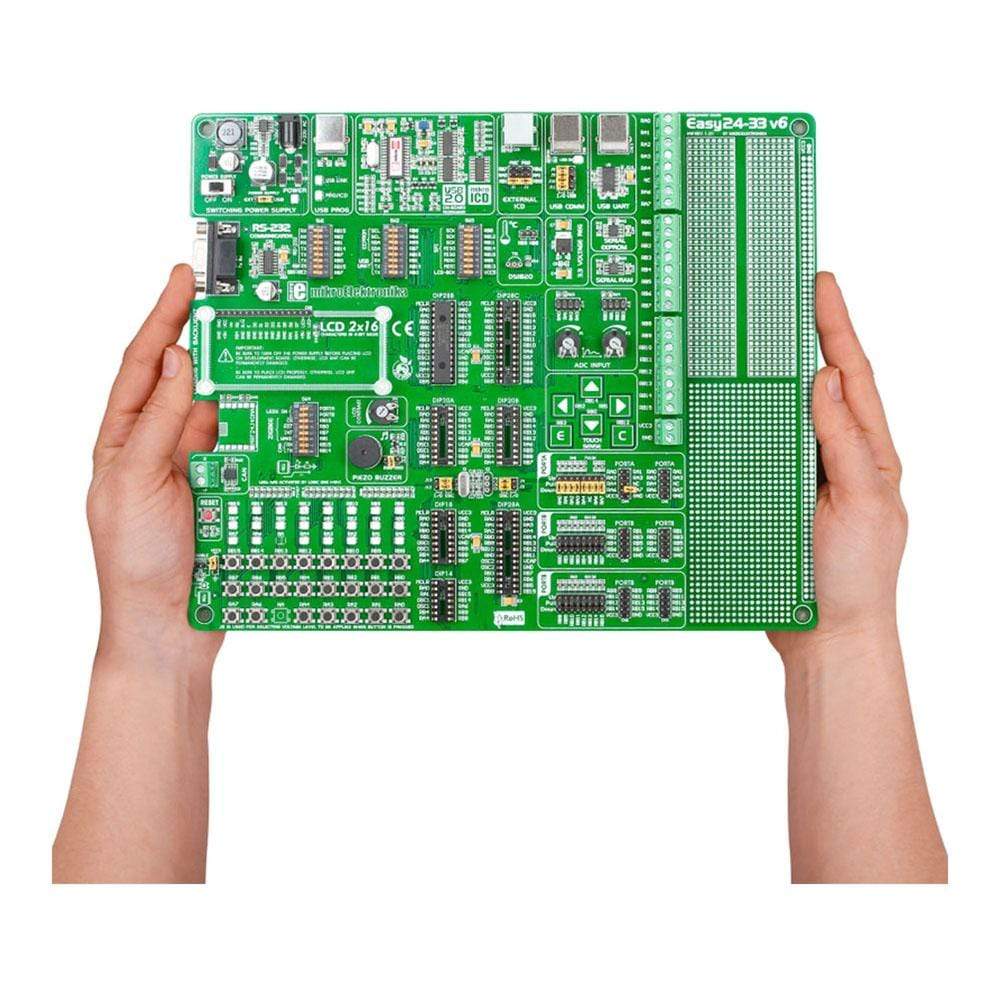 PIC24F16KA102 Microcontroller
The low-power PIC24F16KA102 microcontroller comes with a broad peripheral feature set and enhanced computational performance. It features 16-bit modified Harvard architecture with operational performance up to 16 MIPS. It comes with nanoWatt XLP Technology that makes it an ideal choice for power constrained and battery powered applications. It provides five different oscillator options to develop a range of application hardware.
Supported Microcontrollers
The Easy24-33 v6 development system supports a wide range of PIC24 and dsPIC33 microcontrollers. The new version of the LvPICFlash software supports the newly released PIC24 and dsPIC33 MCUs.
On-board LvPICFlash Programmer with mikroICD
The user may simply write a program in one of the dsPIC or PIC24 compilers, generate a .hex file to be loaded into the microcontroller using the mikroProg Suite for PIC program, then program the microcontroller using the on-board LvPICFlash programmer. The built-in debugger (mikroICD) is used for testing and debugging programs in real time by communicating to the microcontroller through the microcontrollers pins used for programming.
Power Supply
The Easy24-33 v6 development system can use either use +5V PC power supply through the USB programming cable, or an external power supply source via an AC/DC connector
Easy24-33 v6 Development Board
Frequently Asked Questions
Have a Question?
Be the first to ask a question about this.
Ask a Question