When pre-ordered, this item normally ships within 10 working days
The Charger Click Board™ is an add-on board that comes integrated with two chips, one is a battery charger controller, and the other one is a battery charge monitor. The smaller chip MCP73831 is a miniature single-cell, advanced linear charge management controller that is commonly used in space-conscious and budgeted applications. This fully integrated Li-ion, Li-polymer charge management controller works with a programmable charge current from 15 mA to 500 mA. The larger chip DS2438 is a smart battery monitor, commonly used in portable computers, cell phones, consumer electronics, handheld instrumentation, etc. The board also features an onboard battery connector to facilitate connection.
The Charger Click Board™ uses the unique 1-Wire interface, which requires only one port pin, for communication with the target microcontroller. The DS2438 has a unique silicon serial number, which allows several units to work on the same 1-Wire bus.
This permits multiple battery packs to be charged or used in the system simultaneously. It is designed to operate using a 5V power supply source.
View full details
SKU: MIKROE-2033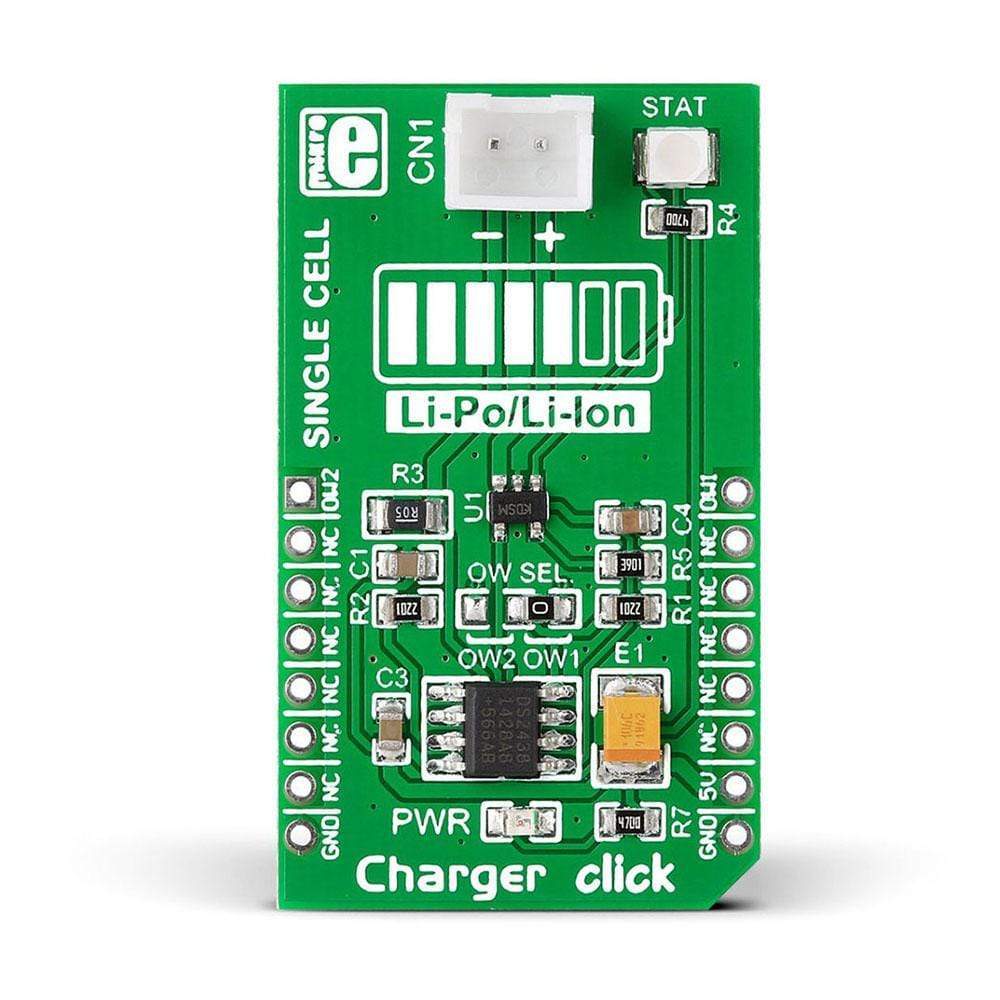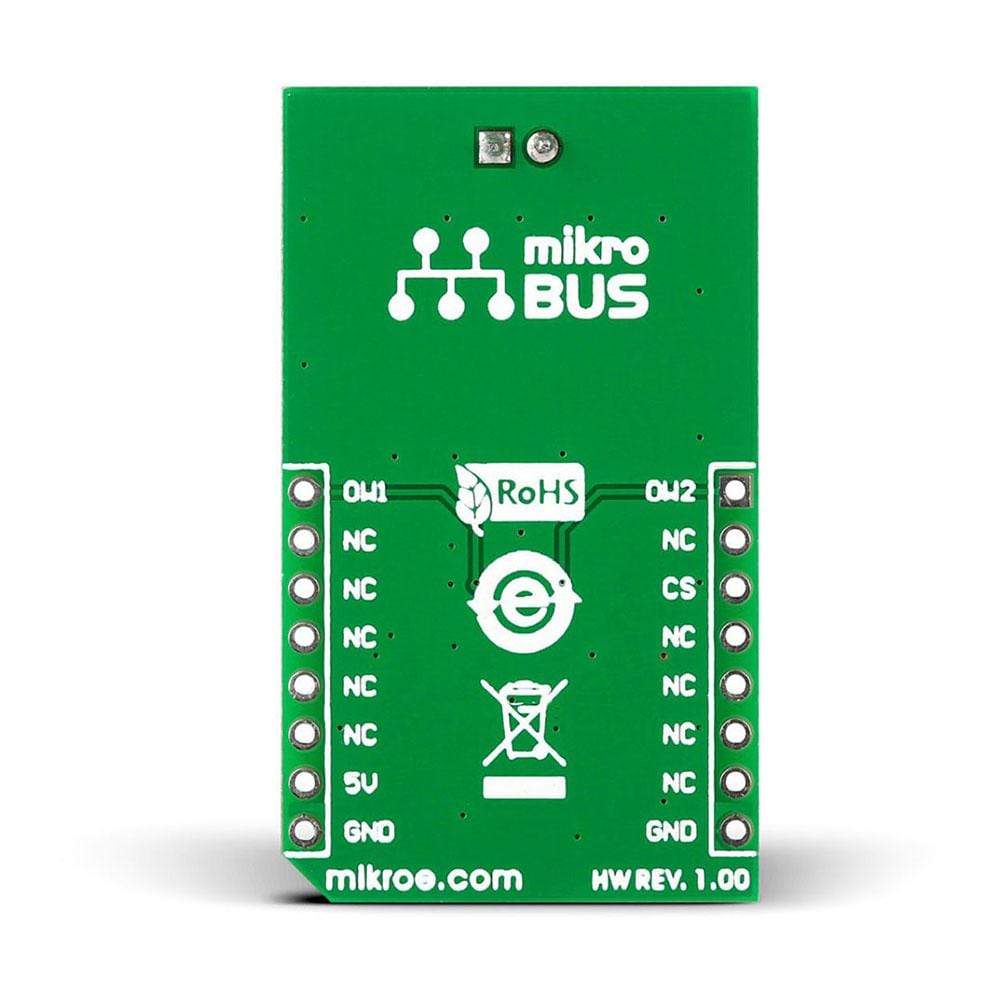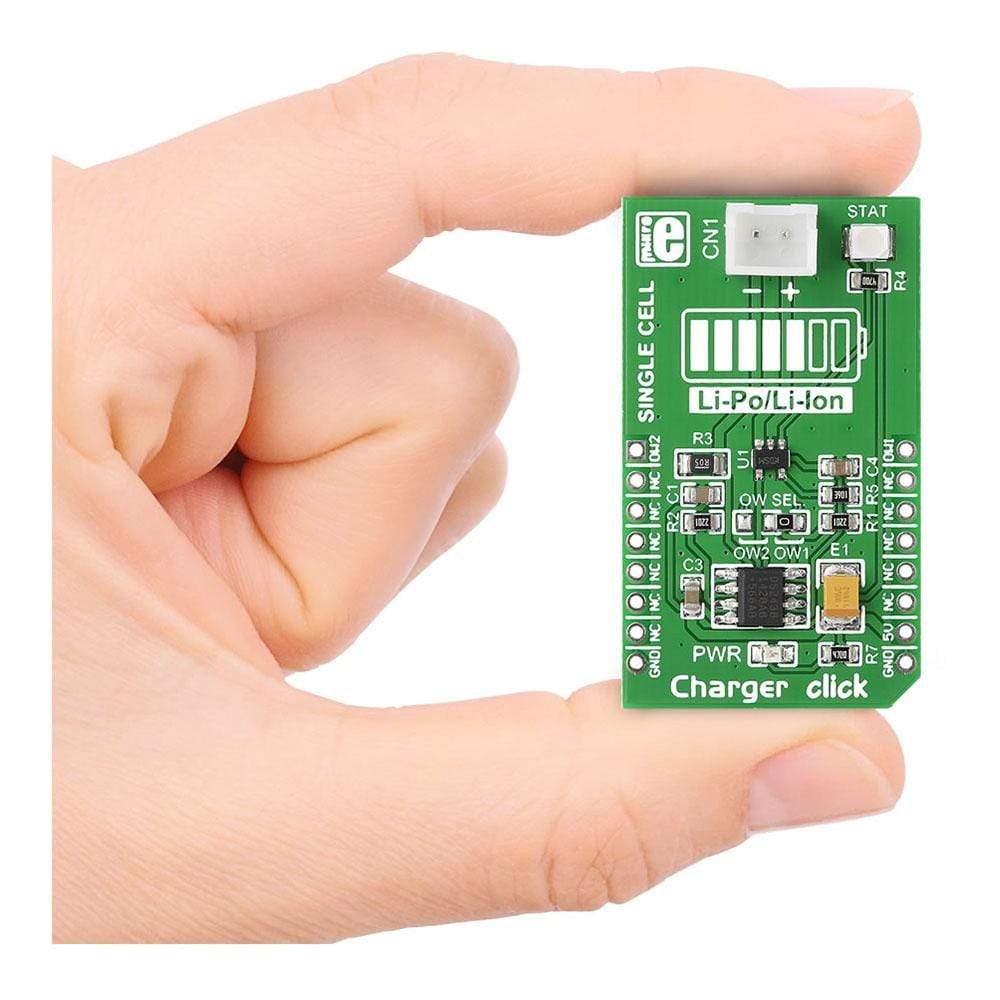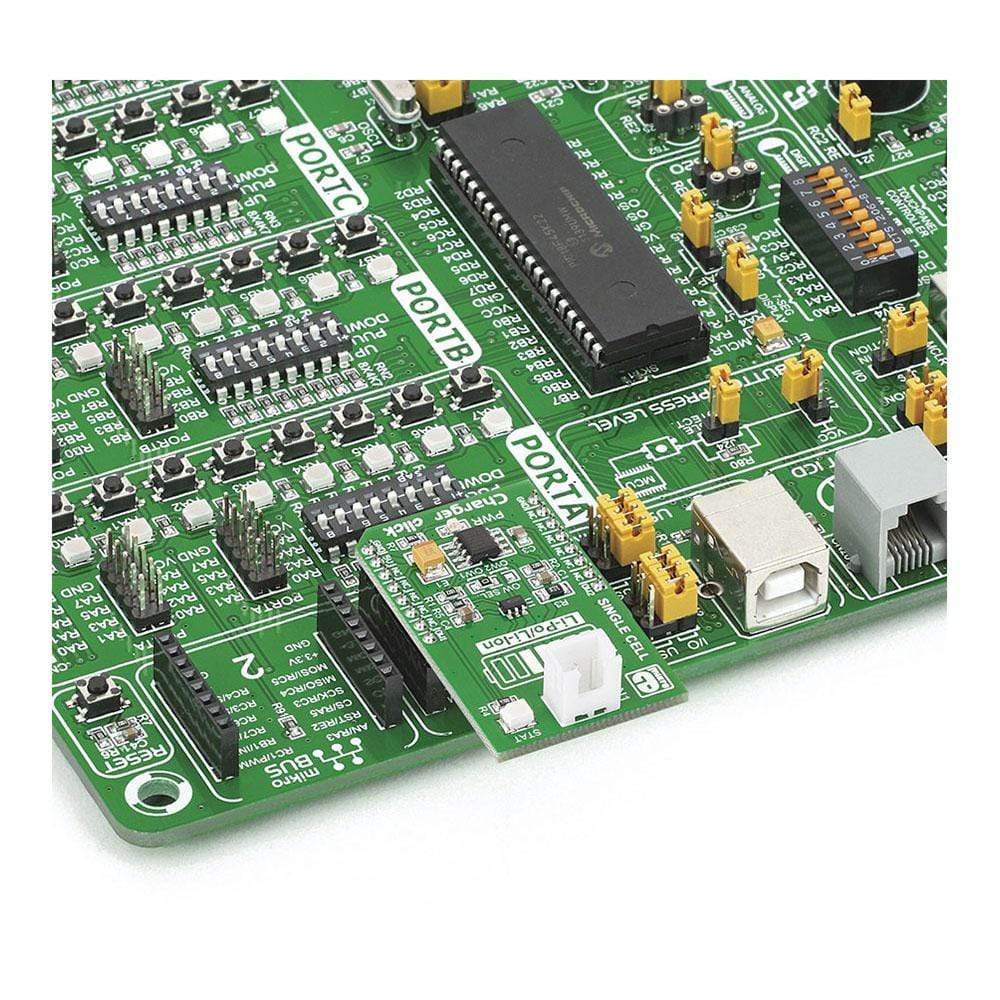 IC/Module: MCP73831 Li-Ion and Li-Polymer Charge Management Controller
The MCP73831 is a small-sized, low-cost linear charge management controller consisting of an integrated pass transistor, integrated current sensor, and a reverse discharge protection. This single cell, fully integrated Li-Ion and Li-Polymer battery charger controller is well-suited for portable applications thanks to its small physical size and low number of external components.
IC/Module: DS2438 Smart Battery Monitor
The DS2438 is a battery charge monitor chip that comes integrated with a direct-to-digital temperature sensor that eliminates the need for thermistors in the battery pack, an ADC to measure the battery voltage and current, and an elapsed timer. It also includes a current accumulator that monitors the total amount of current going into and out of the battery, as well as 40 bytes of nonvolatile EEPROM memory for storage.
Jumper Setting
Charger Click Board™ includes a zero-ohm OW jumper that enables the user to select between two available pins for the 1-Wire interface.
Charger Click Board
Frequently Asked Questions
Have a Question?
Be the first to ask a question about this.
Ask a Question