When pre-ordered, this item normally ships within 10 working days
The mikroMedia™ Plus for PIC32MX7 is a new addition to our successful mikromedia product range of development boards. It is a smart 4.3" touchscreen display driven by an SSD1963 graphics controller from Solomon and it's loaded with modules for multimedia development. Today we're launching a version with PIC32MX795F512L - a powerful PIC32 microcontroller from Microchip.
This board can be used for both development or as a final product.
View full details
SKU: MIKROE-1399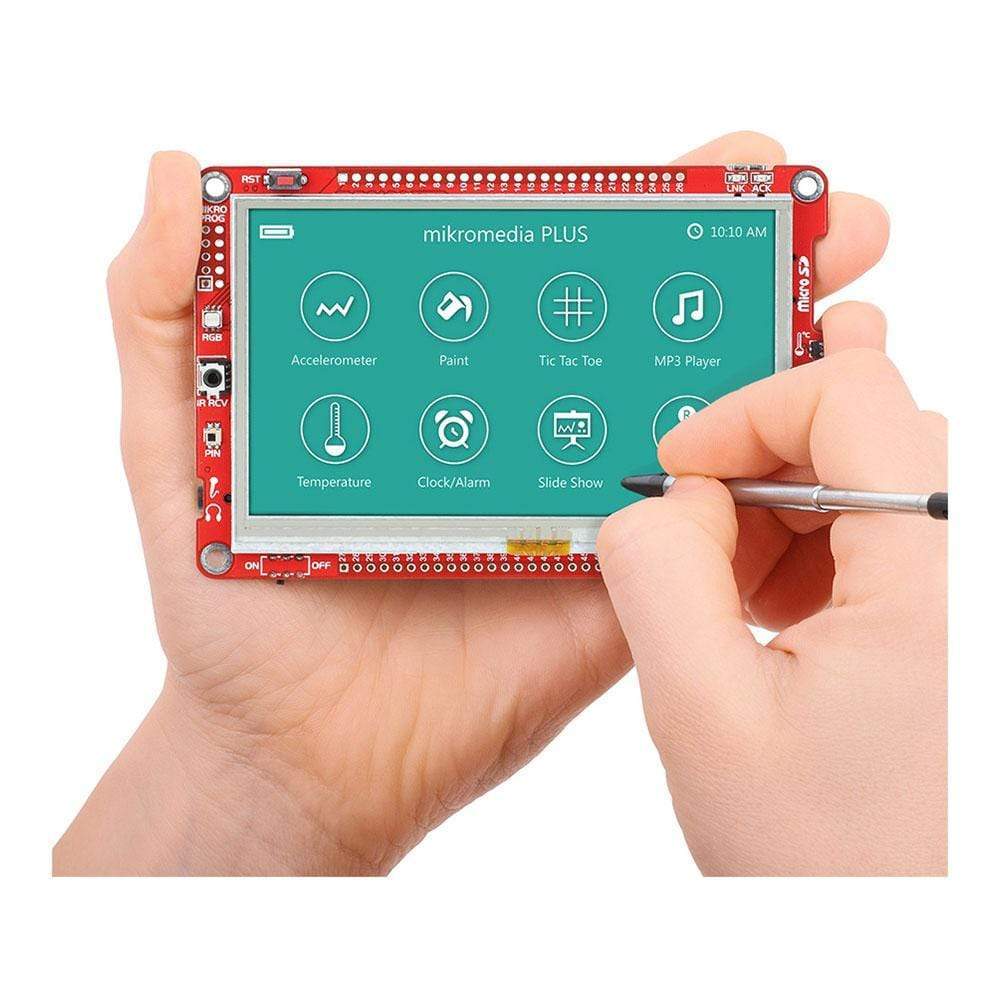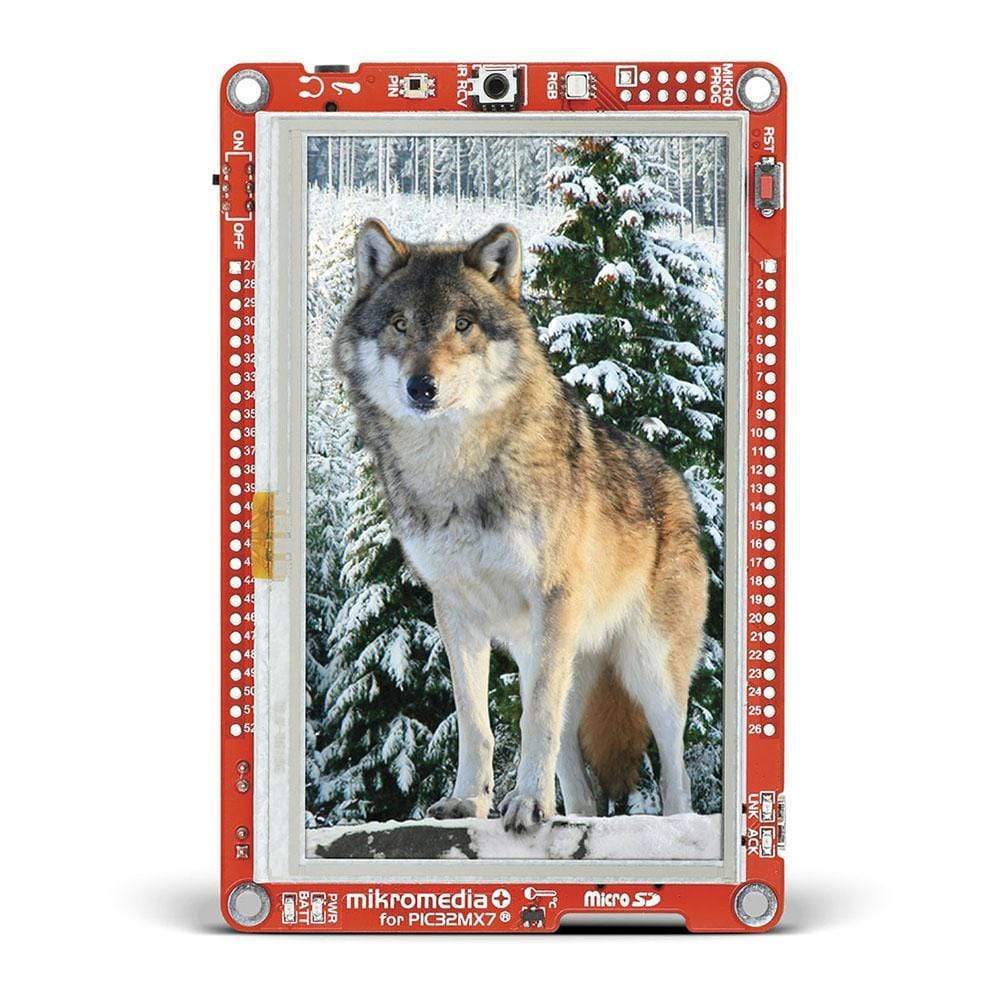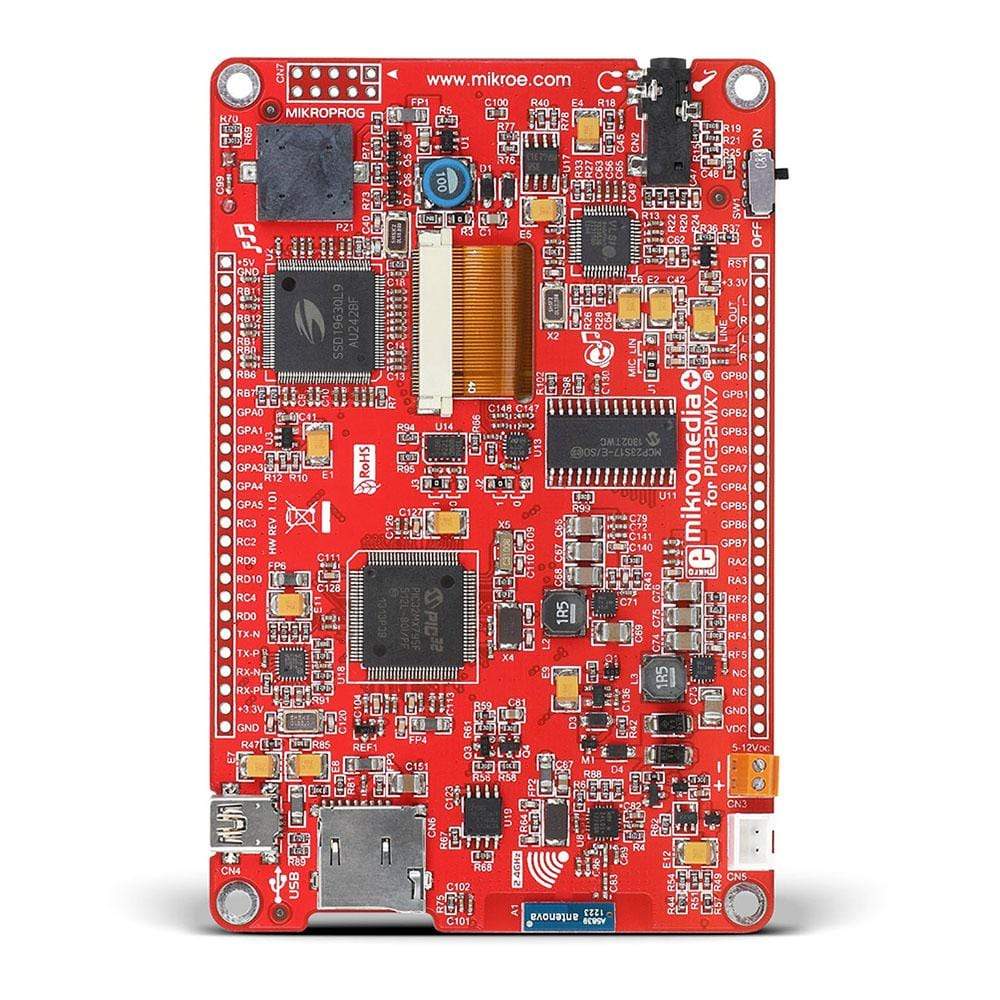 PIC32™MX7 on-board.
Mighty PIC32MX795F512L microcontroller with 512KB of Flash, 128KB of RAM and loads of on-chip modules is ready to handle your ideas.
Large 4.3" Touch Screen
It's time to see the big picture. New 4.3" touch screen driven by SSD1963 graphics controller delivers crystal sharp image in 480x272px resolution.
Communicate wirelessly.
Nordic's nRF240L01+ transceiver with active chip antenna will make you forget about wires. Drive it with simple SPI commands. It that easy.
A whole lot of modules
Board has it all: USB connector, temperature sensor, PIN photosensor, IR receiver, accelerometer, battery charger, MP3 codec, buzzer, etc.
What's on Board
Click on the desired thumbnail to view full image. ( All images shown are for illustration purpose only. Actual board may vary due to product enhancement ).
SSD1963
Popular Solomon graphics controller SSD1963 handles the TFT display. It has built-in 1215K bytes frame buffer, Dynamic Backlight Control and many other cool features.
Why choose mikromedia
Programming
The onboard microcontroller is preprogrammed with fast USB HID bootloader, so it's ready to work right out of the box. You don't have to spend a dollar more on programmers. If you need a powerful debugger use mikroProg for PIC, dsPIC and PIC32.
Compilers
mikromedia Plus for PIC32MX7 is fully supported by mikroC, mikroBasic, mikrobasic and mikroPascal compilers for PIC32. Compilers come with dozens of examples that demonstrate every feature of the board.
GUI design with Visual TFT
Easily create fantastic colorful graphical user interfaces (GUI) for mikromedia in VisualTFT software. Even total beginners will be able to create amazing mikromedia applications.
Modules
Graphics Controller
Popular Solomon graphics controller SSD1963 handles the TFT display. It has built-in 1215K bytes frame buffer, Dynamic Backlight Control and many other cool features.
Audio connector and codec
VS1053 MPEG audio decoder with SPI interface for fast reproduction of Ogg Vorbis / MP3 / AAC / WMA / FLAC / MIDI audio files, 3.5mm four pole audio jack allows you to directly connect your headset to mirkomedia and develop various audio applications.
microSD card slot
microSD Card slot allows you to store large ammounts of data externally on microSD card using fast SDIO communication.
Wireless connectivity
Mikromedia plus for STM32 is equipped with the Rufa 2.4GHz antenna, from antenova®. It allows easy development of applications that use wireless communication.
miniUSB connector
Microcontroler supports Full Speed and USB 2.0 OTG, so this connector allows you to communicate with a PC or other USB devices using USB connection.
Battery connector
Li-Polymer battery connector allows you easier connection with your battery. Autonomous power supply will give your mikromedia the wings it deserves.
mikroMedia Plus for PIC32MX7
Frequently Asked Questions
Have a Question?
Be the first to ask a question about this.
Ask a Question
Not satisfied, incomplete, used, damaged product
I am not satisfied. I received an incomplete and used product for the price of a new one. It contained a scratched display and was soldered, it did not contain a bootloader. I will not shop at this store again.
This is totally unacceptable and we offered you an immediate refund. We would never knowingly ship a substandard product.
John Legg